On Saturday, Rosemary and I visited Dulwich Picture Museum to view an exhibition of Ravilious pictures. Ravilious painted water colours before WWII, he became a war time artist, and painted until 1942 when he disappeared on the 2nd September, presumed dead, after his flight never returned from a mission in Iceland. We first saw his work in a Gallery in Saffron Walden at the Fry Art Gallery a couple of year ago. There we were impressed by his Submarine Lithographs.
At this exhibition we saw so much more of his work, including much before the war. A famous picture of his was painted at the outbreak of WWI, this is the Westbury White Horse with a steam train passing by.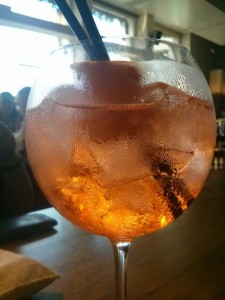 We had chosen the hottest day to visit London, sitting outside in the sun, having a lunch at the Picture Gallery proved to be quite toasty. Afterwards we went over the the Shard, Rosemary refused to pay the rather exorbitant price to take the lift to the viewing platform. Instead we had a drink in a nearby bar. Rosemary going for an Aperol Spritzer and me for a boring lager.
Journey back to Aylesbury rather was fraught, our trip was abruptly halted at Harrow on the Hill, where we were all ordered off the train. The points ahead had failed. There was a complicated alternative route, which we took by tube, only to see a Chiltern train passing us by and going to Aylesbury Vale Parkway. The points were working again. We resumed our trip to Aylesbury from Rickmansworth, and arrived at Aylesbury Park Way an hour late. Needless to say Chiltern Railways compensated us, extremely quickly!, for the late arrival.