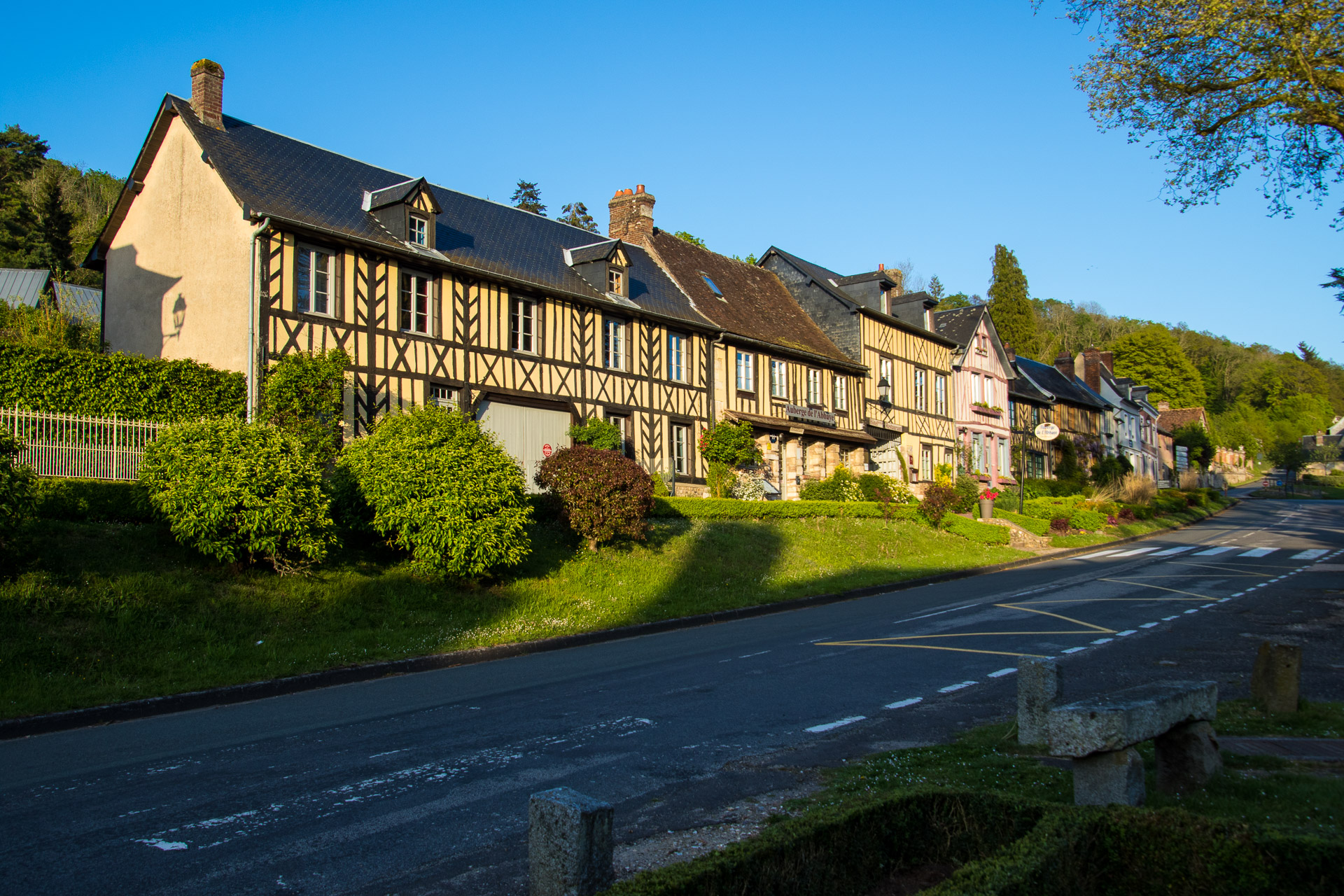 Camping Saint Nicolas in Le Bec-Hellouin
Friday, May 3rd 2019 On our way to Le Bec Hellouin
Set off from home at 6.30. I wondered why Google wanted me to go around the South of London, maybe she knew better and there were road works or accident. A quick look at traffic and yes M25 was closed but between the A41 junction and the M40 junction. Puzzled we ignored her and continued on down the A41. She was persistent, telling us to go South. Suddenly it twigged, I had set the no toll road option in readiness for France. With the aid of my backup Google Sat Nat operative, changes were made to the options and all was well. She now liked our route and stopped her nagging. A timely reminder, we needed to buy a crossing pass, so again the co-pilot logged on to the Dart payment page and paid for two crossings.
Arrived at the terminal in 2 hours and 30 minutes and were now faced with 1-hour 40-minute wait for departure. Normally when you arrive early you are offered an earlier crossing. Not today, the terminal looked very busy. This called for breakfast at the LEON café, some playing with the Twitter and then onboard the Eurotunnel. The crossing was under 40 minutes, and then we were straight off to our first stop.  Google programmed back onto avoid toll roads. A short break at a BP garage for coffee and to check Twitter, then we were shortly at Camping Saint Nicolas in Le Bec-Hellouin. This campsite we visit regularly. It is around three hours from the port and has nice walks down to the abbey. While we were there we bought the ACSI camping site guides and camping card. By the end of the holiday, we had recouped the cost of these and made a considerable saving in out of prime season campsite fees.
This year we had taken the awning, erected it in lovely sunny weather, and sat outside drinking our JDs, Ricard and locally produced Farm Cidre. We must remember not to buy this Cidre, it is not the best. We treated ourselves to food at the campsite café, Moules Avec Roquefort, while R had a huge omelette and chips.
Another British VW camper-van rolled up next to us with a young loud couple. She was especially loud ?
Saturday, May 4th 2019 Visiting Honfleur and Pont-Audemer
Alas, the rain came in during the night, breakfast under the awning. One advantage of the awning is you can leave stuff in there, and it's quite quick then to disconnect the van and drive off. First stop was food shopping at the nearest town Brionne. We had walked there on a previous visit. It takes 12 minutes to drive and over an hour to walk over some hills and through woods. Still raining, but dying off as we headed on to Pont-Audemer where we had a walk around quite a busy shopping centre and quaint town. Of course, it was closing or closed up as it was now 12.30.
Not far now to Honfleur, a quaint touristic town on the Seine where it meets the sea. Parking alas was on a meter and was 4 Euro for 2 hours. Lots of restaurants selling Plateau de fruits de mer. Now have a base guide price of around 45 Euro for an FDM. Not sure what the attraction is of this town, but it did seem busy with tourists and guides taking coach, or river cruisers around through the streets. Could be a stopping point for river cruises.
It had stopped raining and the sun was out, so back to the campsite where it was lovely and sunny. (Still managed to have a heavy burst of rain at 9.00.)
Supper, R was not feeling good, so I ate toast and pâté.
Sunday, May 5th 2019 Evreux and Medieval jousting at Harcourt
Quite a cold night, the sun was shining, but clouds around. Despite the weather forecast, there was rain. We set off to Evreux to see the Notre Dame cathedral. Are all cathedrals called Notre Dame? Found somewhere to park, the city was deserted, all the cafes and restaurants were closed. The cathedral was also deserted, met only two others leaving. No chance of a French Sunday lunch!
A wander around the city we came across a car boot sale. Nothing we liked, R always looking for Ricard glasses and flat irons.
For the afternoon we stopped off at Harcourt, fortified chateaux and arboretum. This was on our way back to the campsite. We were surprised to find the village heaving with people, and car park attendants routing us to playing fields to park. It was a special day, they were having a Medieval fare with jousting, the French against the British. Even managed to down a French-made IPA beer. Strong and quite tasty.
Back at the campsite, it was now sunny, and almost warm under the canopy. Supper cooked as a sausage stew and some wine. Took a quick walk down for the Abbey to get my exercise and to see that the place was still there. Tomorrow we are off the Bayeux.