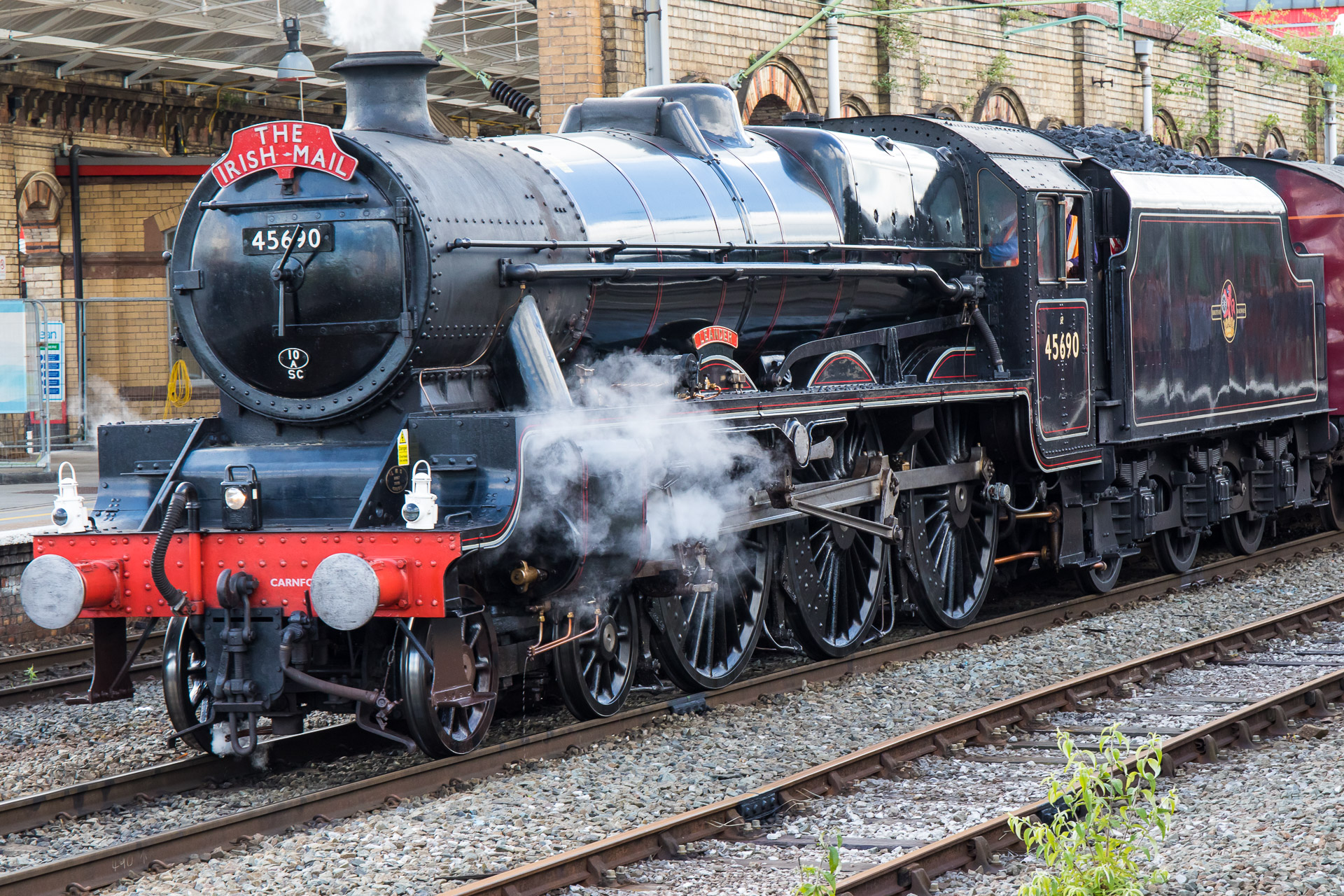 Steam Dreams from Milton Keynes to Holyhead
We took an extravagant trip from Milton Keynes to Holyhead and back again. We had to be waiting on platform 3 at Milton Keynes at 7.20. We dutifully arrived early, leaving us time for a coffee in the Costa, while train-spotter spotting. Yes, you could spot them a mile off.
Waved our piece of paper at the barrier, and were sent on to platform 3, which became quite crowded. The heritage diesel engine, a class 47, arrived promptly on-time. We boarded and sat in our Pulman carriage. Champagne to welcome us. Rather decadent at that time in the morning. Then came muesli with yoghurt & fruit, a small Danish pastry washed down with coffee & orange juice. Full English breakfast was then served, so we merrily made our way to Crewe chomping our way through sausages and bacon.
We stopped at Rugby and Lichfield Trent, picking up more passengers. At Crewe, we had a 40-minute wait while the diesel engine was replaced by our steam locomotive – 45690 Leander. The switch was relatively quick, it was a question of waiting for space on the line for the engines to swap over.
Off we went again, stopping at Chester, and then a longish stop at Llandudno Junction where the engine was filled with water from a fire brigade bowser. At this station, a number of people departed to look at a National Trust property & gardens. They would be picked up on the way back. We stayed on the train for the final destination of Holyhead. We crossed the Menai Straights and passed through Llanfairpwllgwyngyllgogerychwyrndrobwllllantysiliogogogoch station. I missed getting a picture of the sign as we passed through on the outward journey. Succeeded on the way back. R noticed how some cows and sheep and even horses, started running at the sound of a steam train. She also told me the wildflowers were lovely, unlike the caravan parks. Some fabulous coastal scenery. R v pleased to see Rhosneigr, where she had gone on holiday many years ago with her aunt, uncle & cousins.
At Holyhead, we stopped for about 2 and a 1/2 hours. Time for a walk around, a visit to the shops and a quest to find a pub for some drinks. The town seemed a bit run down, but plenty of charity shops so R came away with quite a few purchases, books, glasses & a smart top. The pub, the best thing going I thought, was remarkably cheap. The most spectacular piece of engineering we saw in the town was the footbridge from the port to the town. Built apparently to entice travellers into the town centre. Should have a portcullis to trap visitors in the town.
We re-boarded the train. The engine was now at the other end, pointing in the correct direction. The train had been several miles down the track to a place where the engine could turn around, at a siding said to have been used during the transport of nuclear waste. We set off back to Milton Keynes. Managed to snap Llanfairpwllgwyngyllgogerychwyrndrobwllllantysiliogogogoch as we passed through. Stopped at Llandudno Junction again for more water. We now ate our way back to Milton Keynes, starting with canapes & finishing with cheese and biscuits. changing engines again at Crewe.
Took a picture of one of the passengers, he was wearing an American T-shirt with the word "ferroequinologist" and its definition. Ferroequinologist = train spotter.
.