10th September 2022
Another lovely day in France. Today was just a day of driving around the hills of the Verdon. We started off heading on the D952 to Lac de Sainte-Croix. During the morning it was a vivid blue and looked beautiful, surrounded by white beaches. But we couldn't find anywhere sensible to park – several low 1.8m barriers blocked our way.
Instead of enjoying the boating, we headed for the hills and drove to Aiguines where we had a coffee and a sandwich. This town hosted an amazing museum of wood turning, specifically turning boules, before the French turned to using solid metal spheres. The museum was even more amazing in that it was open during lunch. These boules were turned out of box wood roots, and then were encased with nails which resulted in encasing the wooden sphere with metal. We both picked up a mallet that was typically used to knock in the nails. Very heavy.
After the museum stop, I insisted we travel on a route to Pont de l'Artuby on the D71. This road was on the other side of the gorge we had travelled on yesterday. It was a lovely ride with precipitous drops down into the gorge. We arrived at the bridge and watched humans plunge off the bridge to the floor below, to be saved by the elastic thread attached to them and the bridge. Shades of our trip to New Zealand.
We continued our journey on the D71, turning off to onto the D90 to descend to Trigance. After passing Trigance we turned left onto the D955, heading North along more precipitous gorges. All along the way we had motorbikes following or coming towards us. It was a hot weekend, so the bikes were out in force.
At Pont de Soleils we turned west) onto the D952 and headed home, passing through Point Sublime. Along this route are deep valleys, we saw vultures gliding into their homes. Now we were on home territory, so continued on to Moustiers-Sainte-Marie, making fast passage until we caught up with two motorhomes who only turned off our route a kilometre from home.
Rosemary purchased a couple of local beers from the campsite, brewed only 200 meters away. A brown and blonde ale, flavoured with honey. Not session ales at 7.00 and 5.9, but a delightfully different taste.
Supper was Puy Lentils (imported!!) with tomato, red pepper, lardons and onions.
I enjoyed the journey, these narrow, steep and precipitous drives are exhilarating. Rosemary was meant to enjoy the scenery but turns out she was worried that she would end at the bottom of a valley, or that Morrison would be scraped along the mountain side.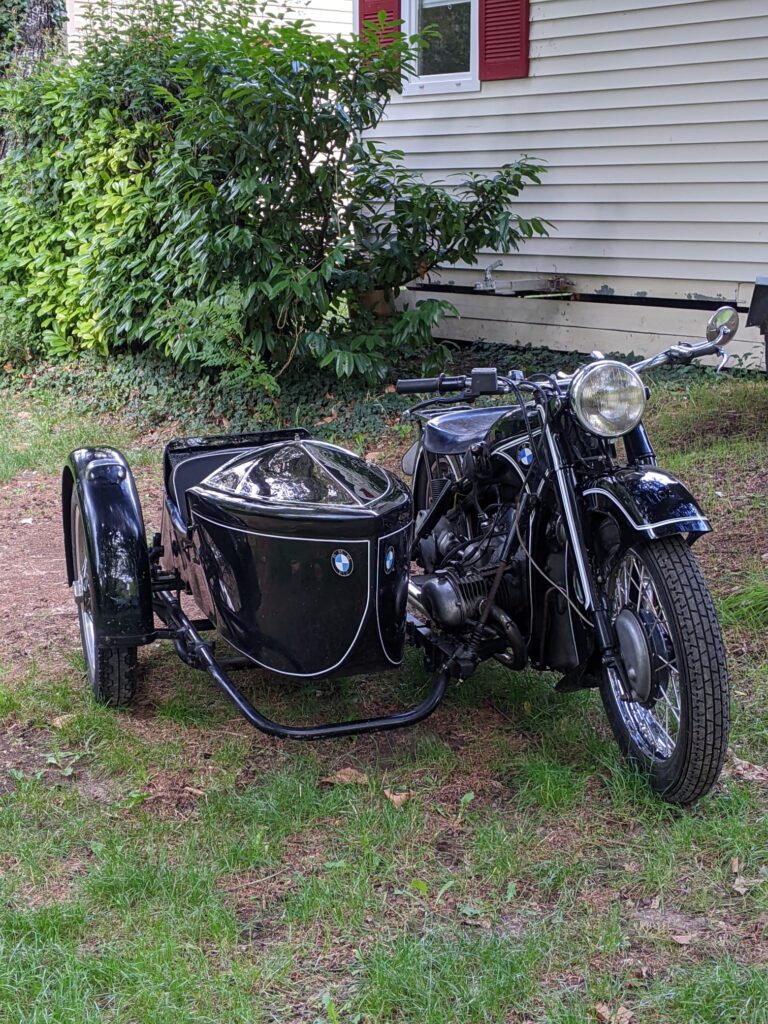 Rosemary loved this BMW bike and side car at the campsite.