Trip to Morocco to climb Jebel Toubkal
Back in January 2020 I booked a trip to Morocco with Explore! to climb Mount Toubkal in May of that year, paying for the holiday in full early March. Well of course the trip was cancelled towards the end of March 2020. I then rebooked in March 2021 for a trip in October. The trip went ahead, and I travelled out to Menara Airport on the 9th October by EasyJet. I did not spot anyone else travelling on the flight. Although, apparently, there were six others.
A couple of weeks before I travelled, I hired a down filled jacket, crampons and a four-season sleeping bag. Also bought a nice 30 litre day bag. Toubkal in October should be cold, with ice and snow. As it happened there was no snow, and the shelter was not cold, so crampons and sleeping bag were a waste of money. The down jacket was worth it.
Because of COVID, there was some apprehension as to whether I had the necessary documentation. Morocco allows entries with no quarantine for those who are double jabbed, or have a negative PCR test. I am double (& booster) jabbed but decided to do a PCR test for the extra peace of mind. As it happens double jabbed was fine. Forms completed, vaccination certificate on phone and printed. EasyJet allowed me to fly, and Morocco allowed me in. Customs at Morocco was rather slow, and when one officer left his place, this doubled the number of people in my queue.
We were picked up by the tour company and driven to the hotel. A briefing at 6pm, and then we walked to the Souk and ate Tagine and bread at one of the outdoor restaurants in the market. There was a search for a bar, but this proved unfruitful.
Sunday 10th October 2021 – Trek to Tizi Oussem via Matate and Azaden Valleys
We ate a hearty breakfast at the hotel, and then left on a minibus to Aquersiol where we started our walk to Tizi Oussem. On these treks we were always well fed. Our feeding routine was generally, breakfast to start the day, mid-morning break for tea and a snack, a lunch time picnic, afternoon tea and then 3-course supper. Our walk took us a little over six hours, including the picnic lunch break. We started at 1627m (5337ft), climbing to a maximum of 2290m (7513ft)
Our accommodation was very basic, there were showers. We were divided into four rooms. Some chose to sleep under the stars, they did not regret the howling wind which woke us at intervals.
Supper was served. We had our own chef who accompanied us, two guides, and five donkeys and their minders carting our food and bags around.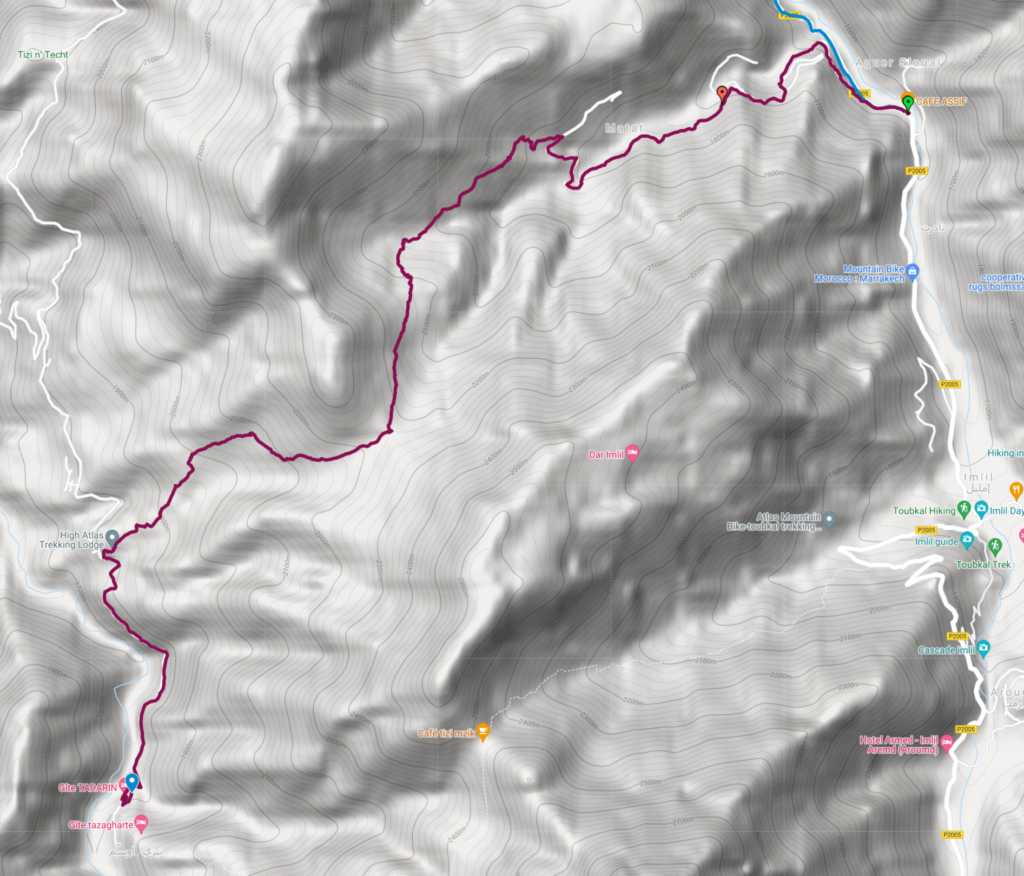 Monday 11th October 2021 – Trek to Aremd via the Tizi n'Mzik Pass
We set off on our trek a little after 8. Walking through the village with its assortment of traditional homes, often with sheep living above the living accommodation. Today's walk took us up to 2545m, over the at Tizi n'Mzik (8350ft) before descending into Aremd where we stayed in a traditional home. On this walk there were some rainbows. The walk was 5 hours.
At Aremd we again were split across rooms, with shared hot showers. An attempt at rigging up a wifi repeater router failed, apparently the base station was off. This accommodation was far superior to the previous night, and we would be back here on our return from Toubkal.
We also had a couple of hours walk around the village, looking at all the bars and restaurants alongside the river. Tourism had not yet returned, so most of the village's venues were closed. Harry, one of the two women on the tour, decided to purchase a shawl from a stall. She haggled hard, and when asked her nationality, English, was accused of being Scottish due to her haggling!
Apple harvest appeared to be in full swing. The trees were laden in apples, which are put into a cool store, waiting for the higher prices. Back at our overnight accommodation we had a lovely supper.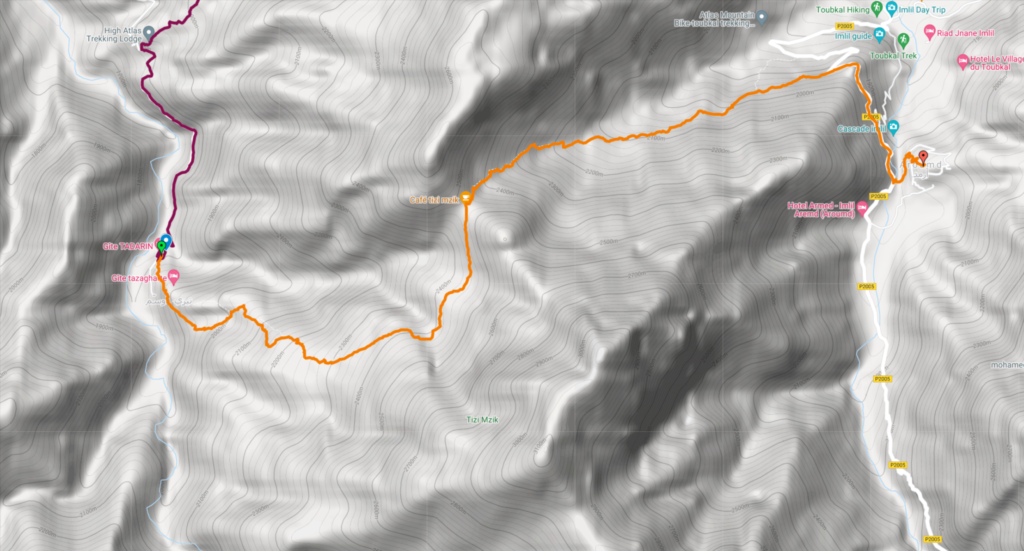 Tuesday 12th October 2021 – Trek from Aremd to Neltner Refuge via Sidi Chamharouch
Today we left Aremd, walking down through the village to the wide river bed. Then it was an uphill walk all the way to Neltner refuge. Unfortunately I did not start my tracker at the beginning of the walk, so the maximum climb was not recorded The recorded climb about 1120m (3670ft) to the height of 3225m (10580ft). The walk was steady with no particularly steep parts. There were quite a few bars/cafes on the route selling refreshments including freshly squeezed orange juice. I had a couple of orange drinks on the way. We did not stop for lunch on the walk up, waiting until we made the refuge where there was lunch waiting for us. A relaxing afternoon, and then a brief walk to see the route we would be taking the next day.
It was lovely relaxing outside viewing the mountains around as the sun set, and the clouds rose in the valley. Then the sun dropped behind the peaks. It became bitterly cold in seconds.
The lodge had Internet, slow in the evening, but far faster when everyone had gone to bed or had left to climb Toubkal. The lodge was divided into a couple of dining rooms, showers and loos, and several dormitories. We had one dormitory for us, with bunk beds, that could host 12 people. Six slept underneath and three on top. I was one of the three on top, which was luxury, we had a space between each of us.
There were showers and loos, I admit to not showering for the duration of our stay in this lodge, it seemed easier. The lodge catered for the adhoc visitor with a menu of food. We had our chef, so were catered by him, and we also had our own dining room. As is usual we had an excellent meal in preparation for tomorrow's climb.
It was decided we would start the climb as dawn was breaking. Other groups left very much earlier, and we were woken by people leaving at 4am to try and catch the dawn at the top of the mountain.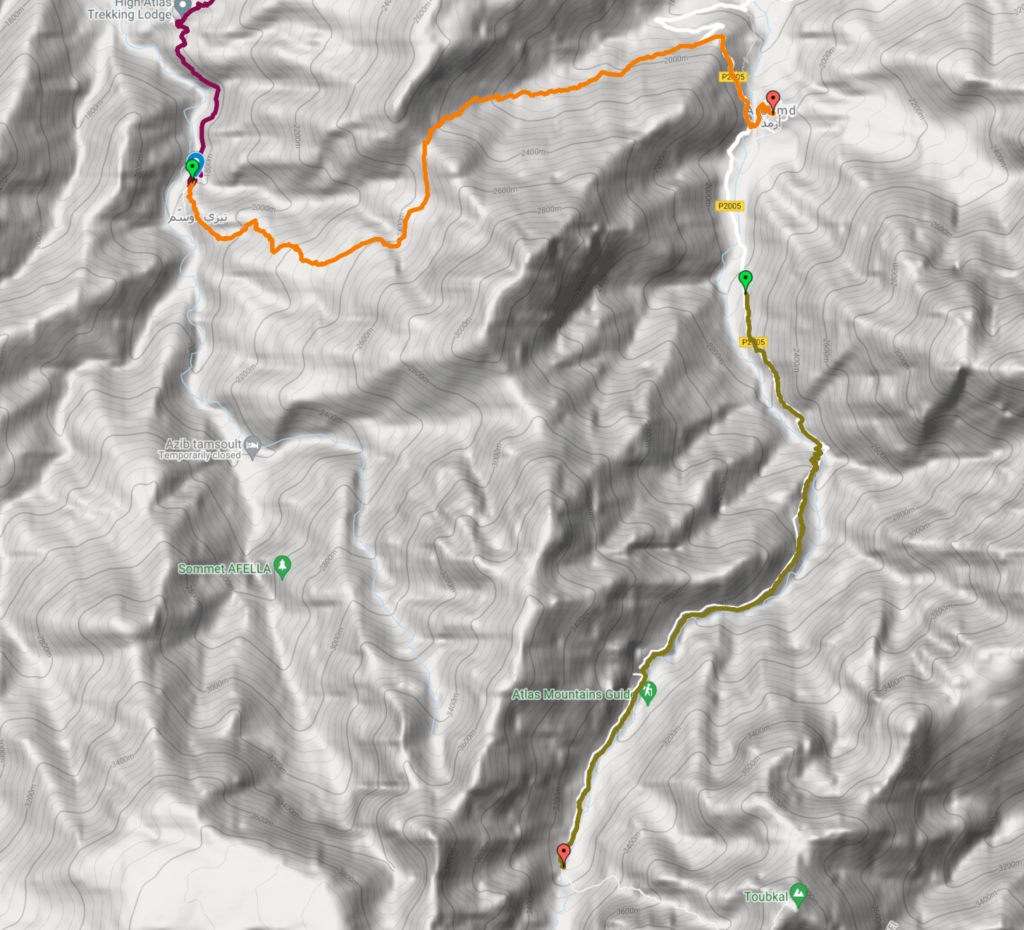 Wednesday 13th October 2021 – Trek to Summit of Jebel Toubkal
We started our climb after breakfast at 7:50 climbing 1046m (3431ft) to the summit at 4221m (13848ft). These are my measurements on the mobile phone which do not quite equate to the official heights in the brochure. We were out for 7 hours and 50 minutes and ate lunch on return. I was impressed by the guide (Mo) who set a slow and steady pace, lazily walking up and down the mountain with short steps and hands in pocket, occasionally looking over his shoulder to ensure there were no stragglers.
The walking was quite easy, with only one early scramble up some rocks. There were several groups walking up, and we also met those who had started earlier on their way down. There was no snow or ice on the mountain, and we were greeted by bright blue skies and very little wind. An absolute perfect day for a stroll.
There are three climbs to the summit. The summit remains out of view until the last 30 minutes. The first climb is the hardest and the longest, though the subsequent climbs were fairly exhausting because of the reduced air pressure. Two in the group had bad headaches, a sign of mountain sickness. We all made it to the top as one group with no stragglers. This old dude (oldest in the group!) was right behind Mo.
We remained on the peak for nearly an hour, taking pictures and eating a snack (dates and figs). It was then the return trip, using sticks. The return was only slightly shorter, and my legs were getting a little tired. Lunch (not very hungry), we watched the clouds come up the valley, and the goats being called off the hills or running down the valley to be fed. A lovely day.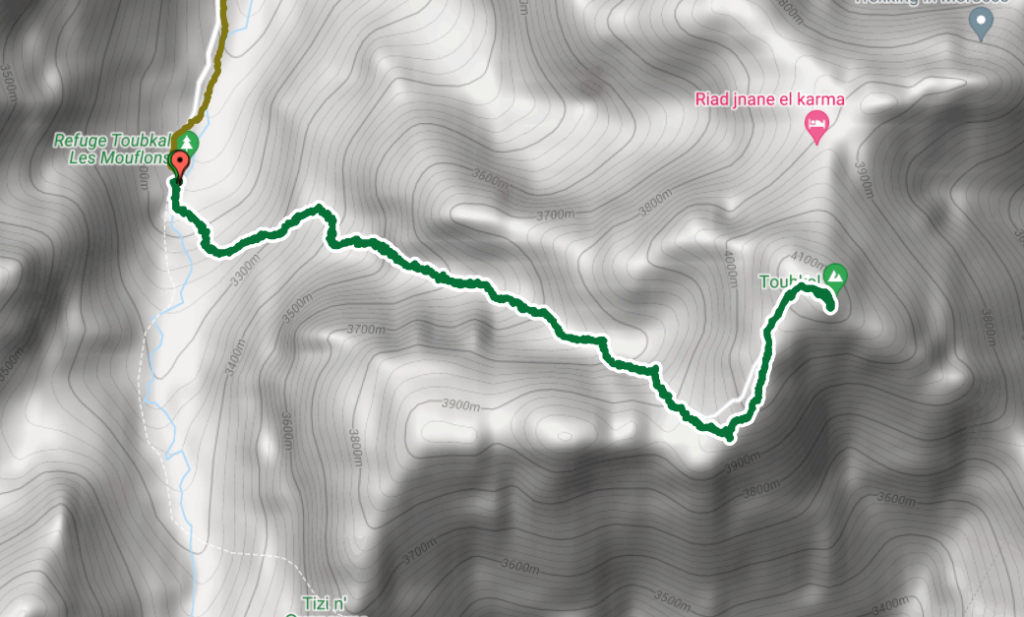 Thursday 14th October 2021 – Trek to Tizi Ouanoums and back to Aremd
Today our trekking holiday was drawing to an end. There was an opportunity of an optional walk before returning to Aremd. It was noticeable that attitudes were changing. A couple of days before there seemed to be a consensus we should try the second peak, Ouanoukrin (4089m 13415ft). Mo had been quite uncommittable about this and had been suggesting a lesser target of Tizi Ouanoums. Today most (all?) of us were quite happy to take the shorter walk up to the pass at Tizi Ouanoums at 3728m (12230ft). The walk up was still a 1 hour 30 minute walk. We then had the walk back down to the refuge and on down to Aremd (where the internet was now working).
The pass of Tizi Ouanoums was quite windy. The view of the lake was obstructed by the haze, and lack of water in the lake. On the walk down to Aremd we stopped at Chamharouch for lunch. A small village associated with the Shrine of Sidi Chamharouch. A boulder with a hole in it, associated with a mosque. The superstition is your woes will be cured by visiting this place.. While we were there a sheep was being herded to the shrine, and a man was sharpening his knives in preparation to slaughter the offering.
After lunch we continued our trek back to our village lodging for the night. We walked 11 miles in 9 hours 30 minutes.
Back at the village house we settled up the tips for the porters, chefs, drivers, and also had a demonstration by our chef of a Moroccan omelette. A very thin & delicious omelette which has more spices then eggs.
The showers were busy and afterwards we had, as usual, a wonderful meal.
After the meal we all spent an hour of our life trying to complete the UK contact and trace form, Luckily there were several of us doing this so we were able to help each other out with those questions that proved unfathomably obtuse.
Moroccan Omelette
The ingredients: Coriander leaves, ground ginger, turmeric, paprika, black pepper, salt, cumin, garlic, grated onion and tomato, eggs.
Heat a tablespoon of olive oil.
Heat garlic in olive oil with salt.
Add onions
Add grated tomatoes
Add spices (about a teaspoonful of each)
Put lid on, turn down the heat. Can leave for up to 15 minutes.
For omelette

Beat egg with coriander. Poor on top of spices. Do not beat. Leave to cook.

You get a layer of egg over the spices.
Meat Balls
Can instead add meat balls, coriander, onion, spices garlic, then put unbeaten egg on top to finish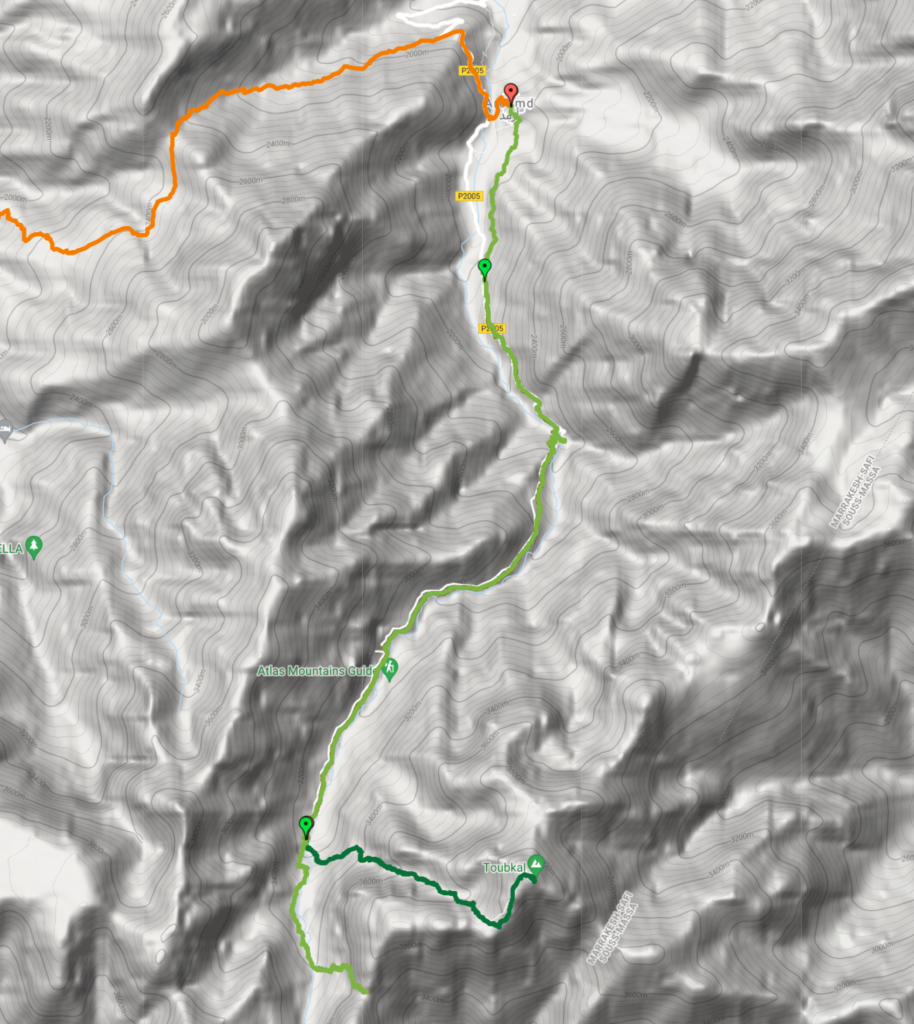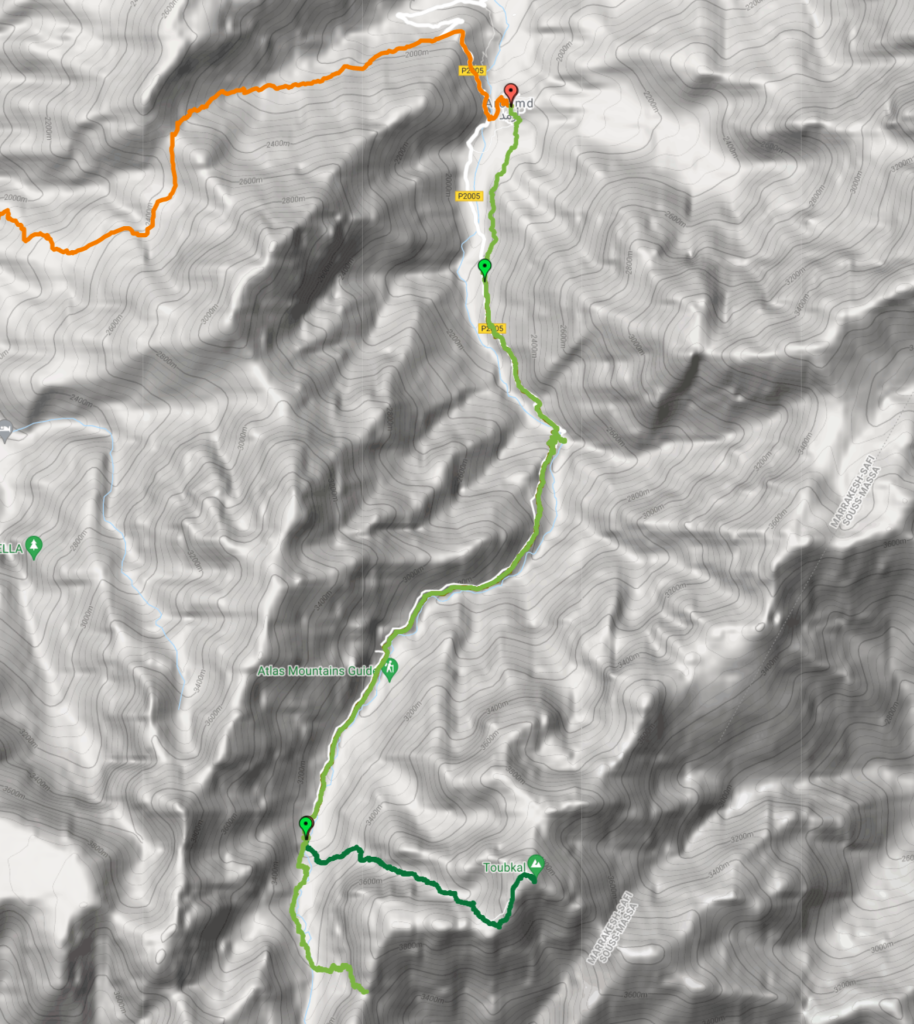 Friday 15th October 2021 – Walk to Imlil and drive to Marrakech
Today we took a short walk down the valley to Imlil where we were met by two small buses and driven back to Hotel Almas. In Imlil we were harassed by street traders setting their bracelets and other tat. Once in Marrakech the group split up, some going to have massage in a Hamman. Others going to the souk. As for me I walked to the Jardin Majorelle-Yves Saint Laurent Mansion. Here I visited the garden and the Berber museum. (Had no idea of the YSL connection before.)
We all met up in the evening for an expensive supper at the Azar Moroccan restaurant. A very trendy place with plenty of eye candy. The small bottles of beer were in the region of £7. It was a nice meal, but we had been eating well throughout the Explore! holiday.
Saturday 16th October 2021 – Back Home
We had the morning free in Marrakech, which I used with others to visit the Ensemble Artisinal Marrakech. This is an array of craft shops near to the Souk. Prices here are non-negotiable. I came away with a puzzle box. Others with belts, wallets and bags. There were musical instrument, carpenters at work, light fittings. Many objects far too large to take away with you. The craftsmen running the shops were not pushy and showed you their wares. It was a pleasure to visit and to buy from them.
Now it was time for home, the flight home and the drive home. Marrakech airport is exceeding modern and beautiful. The duty free shops were well stocked with drink, good deals on Ricard. Should really have bought 4 litres, but how do I carry that much? Everything in the terminal is prices in Euros. I did barter down the price of a Starbucks coffee by offering the last of my Dirham.
One word of warning, if you have a drone, ensure its in your hold luggage, one member of our group spent an hour in the police office explaining why he had not declared his drone, and eventually having it confiscated.
Other than that hiccup all went exceeding smoothly, no holdups anywhere, no queues in the UK, the M23 / M25 / M40 were a dream to drive on, so much so I took the long route home through Bicester rather than the shorter cross country road from Thame.
Interactive Map of Trip