We had our usual Christmas this year, complete with our countdown meals, all planned on a handy Excel Spreadsheet. One change was made, a meal was swapped around because the original was deemed too complicated for a Friday pub night.
Our Christmas Eve had Phil and Selina over for our usual cheese fondue. The fondue set is one of the few possessions I brought to the family, which still exists. The set must be more than 40 years old.
Christmas Day had Julian join us for our traditional Christmas Turkey lunch. (I cannot get them all to agree to a swap to a goose.) Nothing was forgotten, except the amount of gravy made was somewhat lacking, so there was no gravy in the sandwiches on subsequent days. Traditional Christmas pudding was on offer, with Jack Daniels Butter, along with Christmas Pudding Ice Cream,
Leftover food kept us going for a week in various reincarnations. No turkey curry, and somehow the bread sauce found its way to the back of the fridge and was not discovered for well over a week. (I think this deliberate on R's part.)
New Christmas tree this year. Gone has the natural tree with falling needles, and now a metal and plastic affair which should see me out.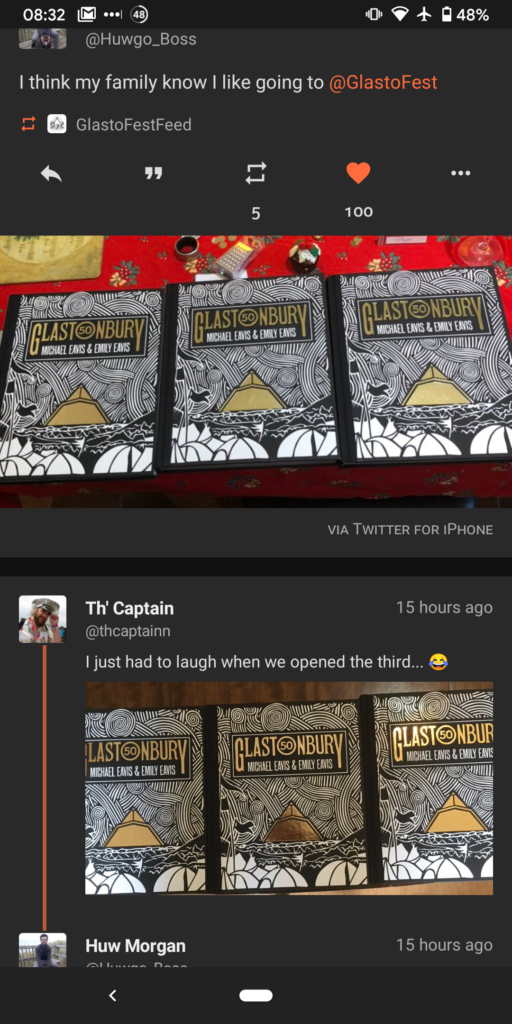 Selina had originally bought me the Michael Eavis and Emily Eavis "Glastonbury 50" book for Christmas. It would have been a brilliant choice. Unfortunately, I had already bought it back in November. R had not communicated this fact to Selina when she had asked if I had purchased any books recently. Luckily, Rosemary told me that Selina was enquiring about my book purchases, so I reminded her of "Glastonbury 50". Quickly she phoned Selina, but it was too late; Selina could not cancel the order. No matter, it was passed on to Ravi, one of the friends whom I took to Glastonbury.
During Christmas Day, I read several tweets from Glastonbury fans who had received multiple copies of the book. Several with two copies and at least three had three copies of the book.