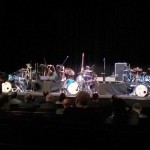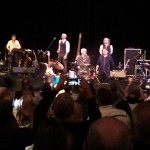 Months ago I ordered a ticket to see King Crimson at the Aylesbury Waterside Theatre. This was the start of their tour where they are playing their music from the 70s The first two dates were at Aylesbury, put on by the Friars Club. (There was an earlier private event at the Waterside the day before.) The reason for the first UK tour dates being hosted by Friars was Kings Crimson's long association with them.
Well the day came, and I remembered the gig, still sitting at home, almost an hour after it had started. I was gutted. Luckily there were still a few good tickets available the next day, and more importantly I was given permission to go and see King Crimson. Arrived at Aylesbury in plenty of time, time to have a pint at the Farmers Bar in the Kings Head where there were some drinkers waiting to see King Crimson, and others who had been the day before.
Back to the theatre, King Crimson merchandise purchased and then into the theatre. What a sight – three drum sets at the front of the stage.
What an evening. The set of three drums was phenomenal, the way they interacted. The encore, brought tears to my eyes. All the music was familiar King Crimson. The encore of The Court of the Crimson King and 21st Century Schizoid Man sealed a great evening.
The Play List
Larks' Tongues in Aspic, Part One
One More Red Nightmare
VROOOM
Suitable Grounds for the Blues
Radical Action (To Unseat the Hold of Monkey Mind)
Meltdown
Hell Hounds of Krim
Easy Money
The ConstruKction of Light
(Part One only, no vocals)
Level Five
Epitaph
Interlude
The Talking Drum
Larks' Tongues in Aspic, Part Two
Starless
Encore
Devil Dogs Of Tessellation Row
The Court of the Crimson King
21st Century Schizoid Man
My T shirt