Reading Festival 2015 #ReadingFestival #RandL15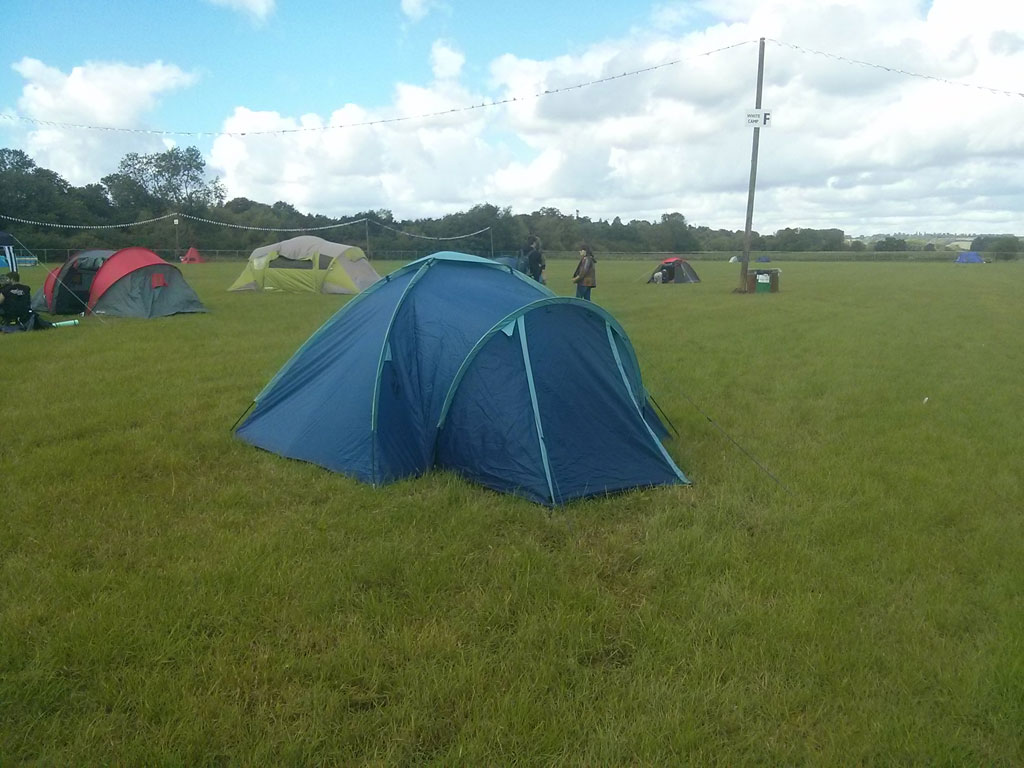 I couldn't make up my mind whether to go to Reading Festival, and delayed and delayed, looking at the site for nearly 6 months. Two weeks before the event, permissions granted, I decided I would get a day ticket for Saturday to see Metallica. Unfortunately the Saturday tickets were the tickets which had sold out, so I ended up buying a full weekend camping ticket. I knew I could do the Friday and Saturday, Sunday was out because of other commitments.
As is usual for me, I travelled to Reading on the Friday, arriving a little after 10, soon erecting my tent on the White campsite which is on the North Side of the River Thames. I parked the tent in a very empty space, making sure it was not erected in the water. The picture does not show the water which is surrounding the tent. There was an inch or two of standing water on all sides of the tent. Soon had the tent erected, I was pretty proud of the speed and efficiency in its erection.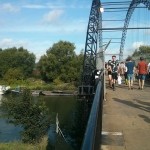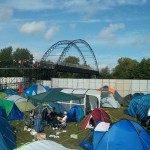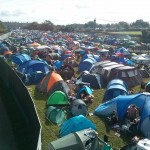 So off now to the stadium, almost a 30 minute walk. This took me over the River Thames on a specially built festival bridge, and then through several campsites, eventually arriving at the arena a few minutes late for the first band at 12.00. For the two days I watched bands on the main stage, not venturing to the other stages. I didn't know any of the names on the other stages other than Limp Bizkit, but they clashed with Mumford and Sons, Alt-J. As it turned out I should have watched Limp Bizkit.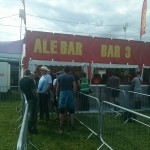 The first band MARIACHI EL BRONX, they create a fusion of traditional melodies and modern ambience, the band embraced the sonic mash and created a mariachi inspired sound. A very inventive band, they had the crowd entertained. I enjoyed listening to them. Quick break and I found Reading Festival were yet again selling real ale. Other festivals take note, not everyone wants to drink that tasteless lager. In fact the real ale seemed really popular, and could have done with a larger outlet, or more outlets, to cut down on the queuing.
Next up were Neck Deep. A Wrexham pop punk band, poised on the brink of certain Stateside superstardom.
Drenge came on next, I really enjoyed them. Drenge are from Castleton and Sheffield where the band now live. The duo Rory and Eoin Loveless, joined by Ross Graham in their recently released album.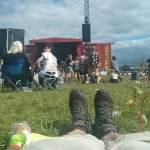 Palma Violets came on, while the sun was still shining. Another must-listen-to band. Will I be buying 'Danger In The Club', time will tell.
More beer, some food, and then back to listen to Panic! at the Disco. This Las Vegas band were really good. Next up were All Time Low as the sun was setting.
Next memorable band was Bastille. Good rock band nominated in 2014 for four BRIT Awards (British Breakthrough Act, British Group, British Album, Best Single for 'Pompeii'), winning British Breakthrough.
The final two bands were Alt-J and Mumford and Sons. Both these bands have a couple of good memorable tracks, while I admit I find the rest of their work not very inspiring.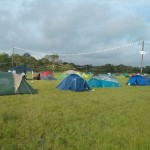 Walked back to the tent, taking a rather circuitous route, arrived back after a rather long time. Managed to find the tent, it did now have a couple more tents surrounding it. Managed to get a good sleep, there was not too much noise during the night. Eventually was up and out by 8.00 for another day, breakfast of bacon, egg, beans and sausage. The utensil to eat it with was the smallest wooden fork I have ever seen, a couple of inches long. Then to the bar, but it was too early at 10.30, so a wonder around, looking at T shirts waiting for my first pint of Hobgoblin at 11.00.
One change I noticed to the main stage was that there are now three sets of barriers. The barrier in front of the stage now has a section in the middle which extends into the crowd and joins a second barrier 30 meters back. This allows performers to leave the stage and interact not only with those at the front, but also people further back. There was another barrier, separate to the other barriers, another 30 meters back. Health and Safety rule, gone are the days of the one barrier.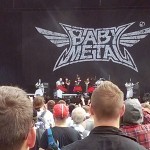 First band started at 12.00 and were Baby Metal. Baby Metal are a Japanese band, fronted by 3 females who are dressed to look very young. They danced and sung. The backing group, all wearing white robes and white masks, were a very reasonable metal band. Personally I am not sure what the three front line girls added to the band, other than they looked cute. They also have a very heavy media machine behind them, I have never had 26 retweets of any tweet I have made. Maybe one retweet. I am sure we will be hearing more of them.
Fidlar were on next, and then the Marmozets The Marmozets were a half reasonable band, their third Reading show, they play happy punk to visceral aggression and soaring progressive epics, the Top 30 album showcased the band's technical prowess and a band teetering on the brink of mainstream mania. Well worth a listen too.
Still not raining, though the sun had now gone, Modestep came on to play their Dubstep. I was jumping to their Jump Jump commands. The band expanded upon their rock, dubstep and electro hybrid sound to create a homage to their hometown that redefines their status as the forward thinking sound of 2015.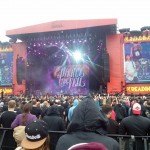 Next on were the Californian band, Pierce the Vail, to be met with the first of the Reading Rain, a light drizzle. Now remember this festival goer was well prepared, today he was not just wearing a T shirt like the day before, but was well kitted out for the rain, with his Fat Face cotton top. San Diego's own Pierce the Veil – Vic Fuentes (vocals/guitar), Mike Fuentes (drums), Tony Perry (guitar), and Jaime Preciado (bass) were good, could be a buy.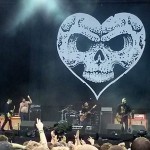 Alexisonfire played next. The band came together for a series of summer festivals. Reading and Leeds were their exclusive UK performance. Ok band.
A really interesting band them came on. Just two people, Mike Kerr and Ben Thatcher, make up the two halves of Royal Blood, a drummer and a guitarist. The band is called Royal Blood. Despite their minimal line-up of drums, bass and vocals the pair create melodic music, with a totally full sound. What these two guys could do with the drums, bass and voice makes one wonder why some bands have so many members. Royal Blood are a British band from Brighton. Yeah a must buy.
Now I was down to the last two bands of the evening. Quick refuel of Chicken Tikka wrap, and beer, I was back in time to see Bring Me The Horizon. Leading the unstoppable charge of British metal bands shaking the world's arenas to their core, the band switch between danceable party music and brutally apocalyptic soundscapes. Actually I can't remember much about them. Fatigue setting in.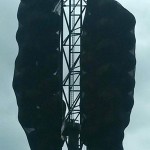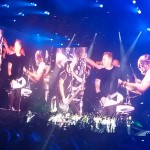 Now the band we were all waiting for Metallica. Already I had seen the preparations for the band in the morning. It was going to be similar to Glastonbury 2014 where a huge set of large inflatable balls were released on to the audience from the top of the stage, and from the rear speaker stacks. The stage setup was huge. The largest video screen at the rear of the stage, set well back, because there were also huge screens on the insides of the stage as well, creating a huge box of video screens.
Before the show started, a large number of selected audience were led on to the stage to watch their heroes at close quarter. On came Metallica ( James Hetfield – Vocals and rhythm Guitar , Lars Ulrich – Drums, Kirk Hammett – Lead Guitar, Rob Trujillo – Base ) a few minutes late, but they played over a two hour set. The video footage was similar to Glastonbury, the sound was not as bassy intense as Glastonbury where I was in physical pain in the chest from the low sound waves. Still it was an intense experience, with lots of friendly people in the crowd. All dancing and singing along to their idols. This was the third time I have seen Metallica, and the fourth time Metallica has played Reading. I saw their first show at Reading 18 years ago, in 1997 with Selina. As I was chatting with some random guy in the ale queue before Metallica played, he reminisced on seeing a blonde busty lady dancing on her own towards the back of the crowd. I too had see her. She put on a memorable eye catching show.
The show ended with the huge black balls being punched across the crowd, and a small firework display. Afterwards I stumbled out of the crowd, refueled with a bedtime Hobgoblin, and some Chicken Jerk before walking back to the tent in the rain. A long journey, I have not worked out the geography of Reading, failing to take a direct route back.
Bed by 1.30, woken by the rain at 4.30 and a need for a pee, should not have bedtime beers, up again at 6.30, tent packed, walked to the car and out of the gate by 7.20 and home by 8.45. Driving out I thought there would be chaos for those leaving on Monday. The tracks in the field were already dire.
I was a wreck, my arms ached, my legs ached, I needed sleep.
Reading you have a good sound system. The sound was so much better than T in the Park.
Reading, you must get some better food franchises, those 12 inch dogs, really suck. The plus side was a good coffee outlet.
I came away with a Metallica Reading Festival 2015 tour T shirt.
Did I feel old at Reading? Glastonbury festival has lots of older people attending, Reading is mainly a young persons festival. That said, I got the impression there were more older people there than a couple of years ago. I reckon I spotted several older festival goers than even me. Several dads and mothers taking their children to the festival, seeming on a tight leash though. I remember those days well.