First time I have participated in a music festival in a campervan. Rosemary had given me permission to take Van the Van to Reading festival. I am under no illusions though, permission was granted only because Selina was coming along with me (as the responsible adult)..
Friday
I picked Selina up after 9.30 and allowed Google Maps to navigate a route to the White Gate. Google took us down some very narrow and meandering roads. We arrived at the festival with hardly any traffic and checked into the campervan area. We were searched for glass and pineapples and then let through into the van area, where we parked next to a few other VWs. Once parked we walked for 20 plus minutes to the arena in time for the first band on the main stage.
I couldn't find the real ale bar. Reading always has one, but all the usual locations were without craft beer. Late afternoon I spotted some people walking around with what looked like real ale. Accosted them and eventually found the bar. It was much larger than before and seemed well organised, but not at all busy. As the days passed more people found it and on the Saturday it was heaving with a queue.
Judas – Main Stage
A band recommended by a work colleague of Selina's. Rock band in the old style. Gave a credible performance.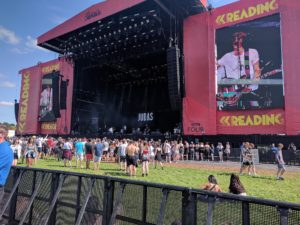 Mallory Knox – Main Stage
Josie Long – Reading Alternative
Rob Delaney – Reading Alternative
Circa Waves – Main Stage
Jimmy Eat World – Main Stage
Two Door Cinema Club – Main Stage
Bastille – Main Stage
Bastille played a stunning set, I will be seeing them again at the Pilton Party. The sun had set before Kasabian came on.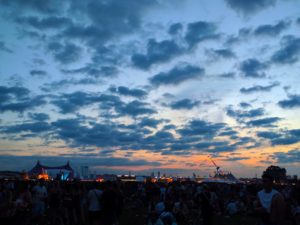 Kasabian – Main Stage
Kasabian are always good. The stadium filled with fans wearing the blue Leicester City footie shirts.
After the band had finished we made the mistake of leaving immediately and then getting lost and ending up where the silent disco was. Had to backtrack to find our way back to the campsite.
Saturday
A nice morning, and an examination of the other campers and motor homes around us. There was a huge double decker coach nearby with an electric cooker outside making breakfast. Some other campers thought the coach was a breakfast venue! We also had several people want to look at our van, they were part way through their conversions and were wondering if a popup roof would be useful. Here is Van the Van aka Morrison with his neighbours.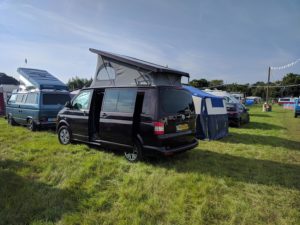 Wolf Alice – Festival Republic
Blaenavon – NME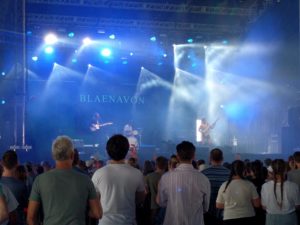 The Pretty Reckless – Main Stage
Cabbage – NME
Migos – Main Stage
Bill Bailey – Reading Alternative
Korn – Main Stage
Turbowold – Pit
Group Love – Festival Republic
Major Lazer – Main Stage
Glass Animals – NME
Yes pineapples were in evidence despite the festival pineapple ban.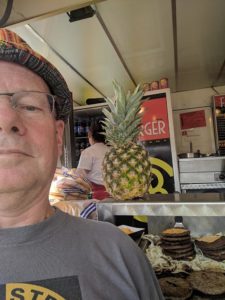 Eminem – Main Stage
Watched Eminem, not really my thing, as were Migos and Major Lazer.
When we left, we alas left with the crowd, went the correct way and ended up walking at a snail's pace.
Sunday
Pins – Main Stage
Vant – Main Stage
Slotface – The Lock UP
Pond – NME
Flo and Joan – Reading Alternative
Katherine Ryan – Reading Alternative
Giggs – Main Stage
Blossoms – Main Stage
Liam Gallagher – Main Stage
Liam is rather a miserable person. The songs were good, and when the old Oasis songs were sung, the crowd responded.
Muse – Main Stage
A great show by Muse with fireworks coordinated with the music.
The third day we had learnt. We stayed on in the arena, had a late supper and then left when the crowds had gone. Back at the campsite we saw the double decker coach leave.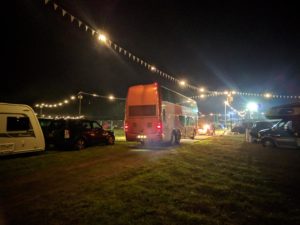 Sunday
Tea in beds (yes, we have two – one in the main body & one in the roof, where I was) at around 8.00am and then a quick pack up and away with very little traffic. The large double decker coach had left the night before. The camper campsite was beginning to look empty, but very tidy.