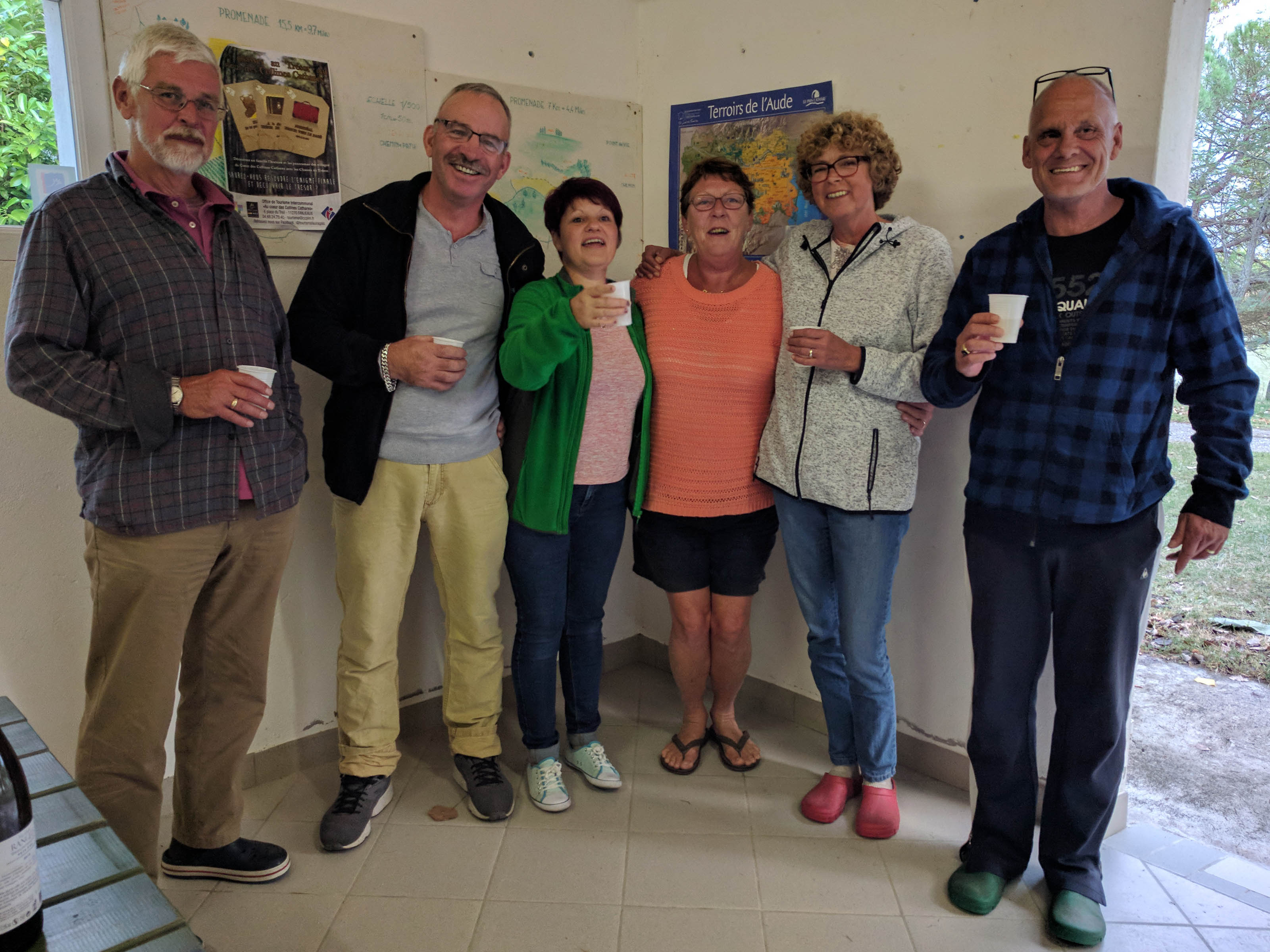 France day 8 – Fanjeaux
Today left the campsite on our journey to the south and hopefully the sun. Managed to pack away the van, missing the rain. Soon came across it on our trip to the A20. Drove the free section of the A20 to Nespouls where we took to the free local roads. We made it all the way to Castelnaudry and started to search for a supermarket, Google had us go to Montreal, an Intermarche Contact. Seemed to be a fuel station and a large warehouse, so tried again and found a place in Bram where we bought some essentials for the next few days.
Provisioned up, we headed to Fanjeaux (we had been there already between Montreal and Bram in the hope of finding food there. It looked pretty grim on the shopping front.) At Fanjeaux we headed to the camping, met Nadine at the farm. She told us to choose a site and come and pay later. There is a longish drive through fields and down to a small lake. The camping pitches are on the other side of the lake in several tiers. We chose a spot near the lake, in-between the only two vehicles, two motorhomes. One was Dutch and the other was a Brit. We tried to connect to the electricity, only to find, on our second occasion, another site with rubbish European socket connectors in the cabinets.
A quick google, We found we there was a caravan supplier in Castelnaudary. Arrived there and bought the adapter we required. Back to the site, electricity connected, and the awning erected. As soon as it was out of the bag the rain fell. Rosemary remained inside the canopy supporting it, while I inflated, positioned and pegged the canopy. All erected inside of 35 minutes. (Ignored R's cries of how our tent (at home) would have been easier.)
We were invited by Luc, Nadine's husband, for drinks at 6.30 where we met the other two couples who were camping. Turns out that the Dutch couple knew John and Carol. We drunk wine in the campsite common room with Luc, Nadine and the other two couples. As it was getting dark we made our excuses to go and cook a quick meal of sausages and peppers. After dinner, the sky was clear, the stars were bright, and our galaxy was very visible. Despite the clear sky, the rain was soon on us during the night. Battering down, with strong winds blowing the trees. The shelter these trees gave to our camping space was fabulous. Didn't hear the awning blowing about at all during the night.