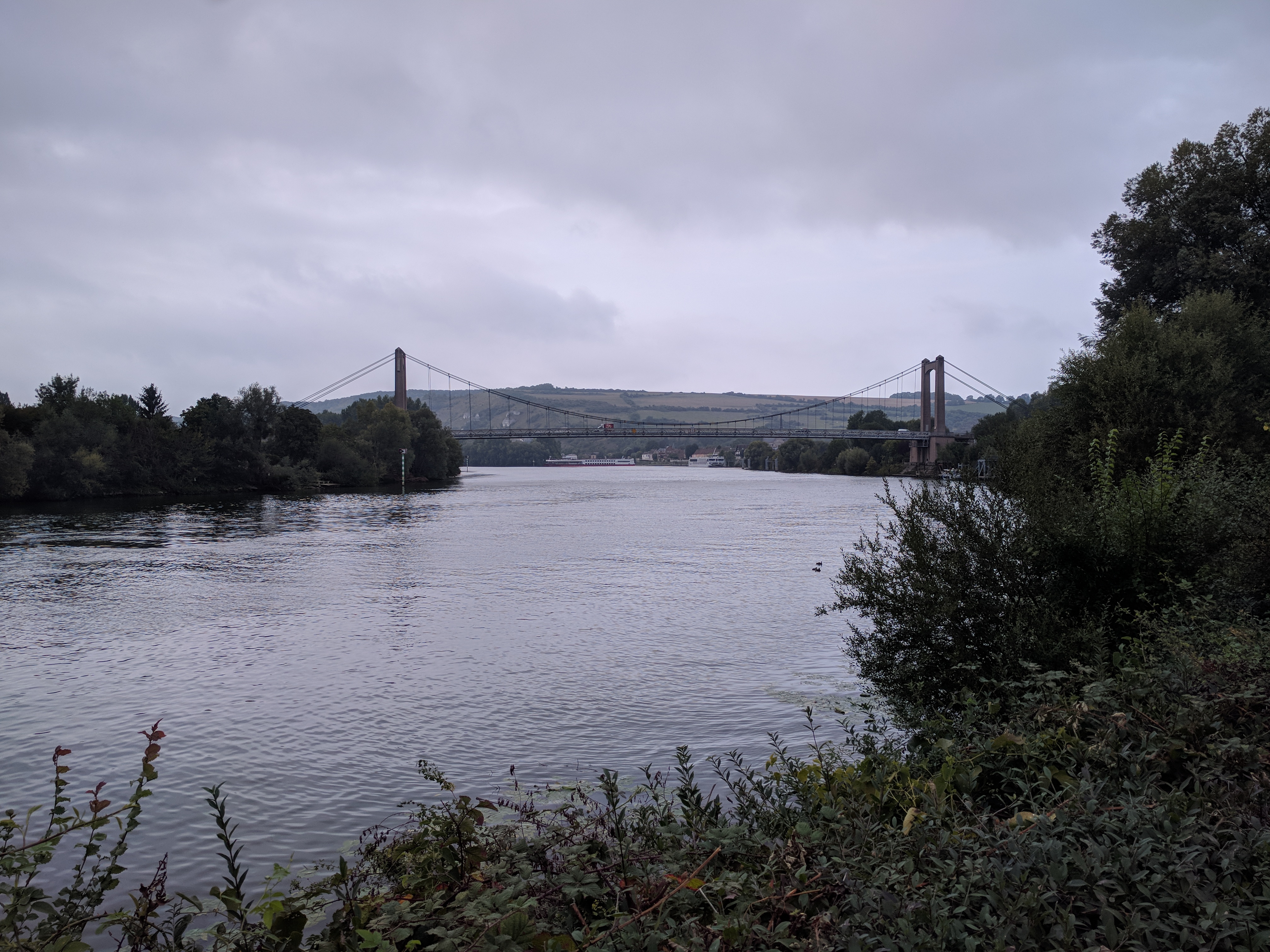 Day 1 – Les Andelys and The Trois Rois
Off on holiday to France (Rosemary asks what is the meaning of a holiday when you are not working). Dismal day, cloudy in the UK and it turned out to be cloudy with some mizzle in France. At least it was warm enough to sit outside for drinks and supper when we arrived in Les Andelys.
The drive to the channel tunnel was a breeze, no speed restrictions on the M25 on the northern route to the tunnel, despite it being the rush hour. I presume the rush hour is a breeze, only experienced drivers and trucks are on the road at that time. We arrived in oodles of time and were resigned to buying a coffee and muffin breakfast before boarding the train. Google had come up trumps; she predicted a travel time of two hours and twenty minutes and so it was.
Once boarded, we sat and read our mobile phones and ipads and listened to the love overtures from the two channel tunnel attendants, luckily in French so we couldn't understand. So soon we were arriving in France, and straight off on to the motorway.
Yes, it did mizzle on the drive the Les Andelys, which is on the River Seine, it is also about 20K from Giverny. Still we ate outside in a warmish, overcast evening and I am writing this as it turns to nine. Not so bad. We are staying at the Three Kings Island campsite or its French name of Camping de l'lle des Trois Rois. It is right on the River Seine where huge barges and Viking river cruises pass by. On the other side there is a small lake with Coots and Grey Herons. The pitches are all hedged off and we have quite a spacious one. There seem to be quite a few Brits and several VW campervans. The grass is green here in this part of France, lusher than at home.
After dark we had a walk around the campsite armed with the bat detector. There were a few flying around which we heard and saw. Over by the lake, there was an almost constant sound of bats, these we never saw because I assume they were flying low over the dark lake. We managed to disturb a mammal which plunged into the water, an Otter, or Coypu?
Tomorrow we will visit Monet's house and gardens in Giverny which is some 20K away. It looks like a wet day with maybe 3mm of rain. I will be hoping for some fabulous pictures of rain drops on the pond and lilies. Afterwards we will have a walk around Les Andeleys where there is a ruined chateau overlooking the campsite and town. Another night and then off to Arcais to see Mike and Linda when the weather will be so much, better complete with sun.