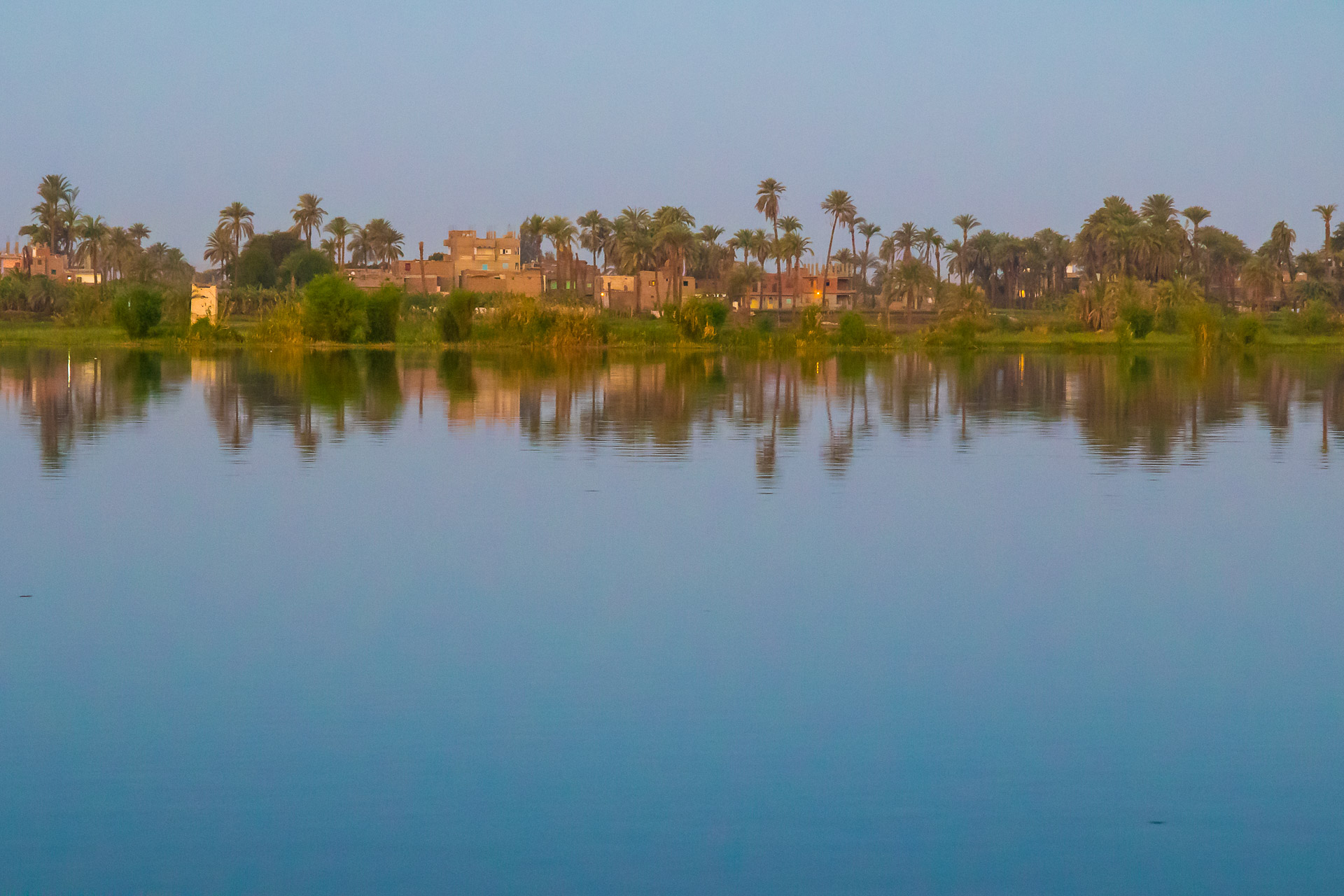 Cruise day to Sohag – Day 8
Today was a cruise day, the second in a row. (Yes, R slightly shocked by it.) We left Asyut early in the morning. Shortly after we set sail, I stood on the cabin balcony in my shorts and admired the still water, the bank and dawn. A reflective photo opportunity. The police boat alongside must have wondered what I was doing at 5.30 in the morning. Strange we were due to leave at 6.00 am, and we must have already been travelling for 30 minutes.
Back to bed for a couple of hours and then breakfast. Keeping with my breakfast diet, fruit most days with the odd omelette every other day.
Good opportunities to photograph river life as we travelled on to to Sohag. A break for lunch, and then a documentary about the Rosetta stone which provided the key to translating hieroglyphs. The same text had been written in Egyptian and Greek, along with the addition of Coptic script, so the code was broken. Alas in this competition to be the first to break the code, the French won.
More river bank watching, it never gets boring, so much to see, the birds, the people, the children waving. Teenage boys, even pause in staring at their phones to wave at us. Strange. Then tea was soon upon us followed by a lecture by George, entitled "Egypt's Golden Age: The temples of Thebes". This was to prepare us for the next day's sightseeing.
Soon dinner was upon us. I can't remember exactly which days, but we did have some themed Egyptian meals. Instead of a buffet, platters would be placed on the table, and you would help yourself to all manner of goodies. So today I publish one such menu, complete with their spelling. R said the Falafel were the best she'd ever had.
After supper we had another opportunity to have a walk around alocal town, this time Sohag. The boat which had been following was also moored up, we was alongside. This walk about was an organised walk by the tourist agency of Sohag and we were led not to the shops, but to a square/amphitheatre to listen to some traditional Egyptian music. We were given Egyptian flags to wave, music played and we were encouraged to dance. Much to Rosemary's ire, I was encouraged to dance with a delectable German from the other boat. All this was filmed, presumably for some Egyptian tourist propaganda film. Don't think they filmed our police escorts.
Egyptian Salad
Tomato, Lettuce, Parsley, Cucumber, Olive Oil
Baba Ganoog (sesame salad)
Sesame, Onion, Aubergine, Parsley, Olive Oil
Goat Cheese with Tomato
Fresh Cream, Feta Cheese, Tomato, Parsley, Olive Oil
Mesh
Fresh Cream, Parmesan Cheese, Blue Cheese, Olive Oil
Fried Aubergine
Fried Green Pepper
Fried Green Pepper (spicy)
Potatoes (French Fries)
Brown Beans
Falafel
Brown Beans, Celery, Onion, Fresh Coriander, Parsley, Sesame
Grilled Chicken
Grilled Kofta (Beef)
Dessert Mahalabia
Milk, Fresh Cream, Cornflower [sic!], Coconut, Butter, Sugar