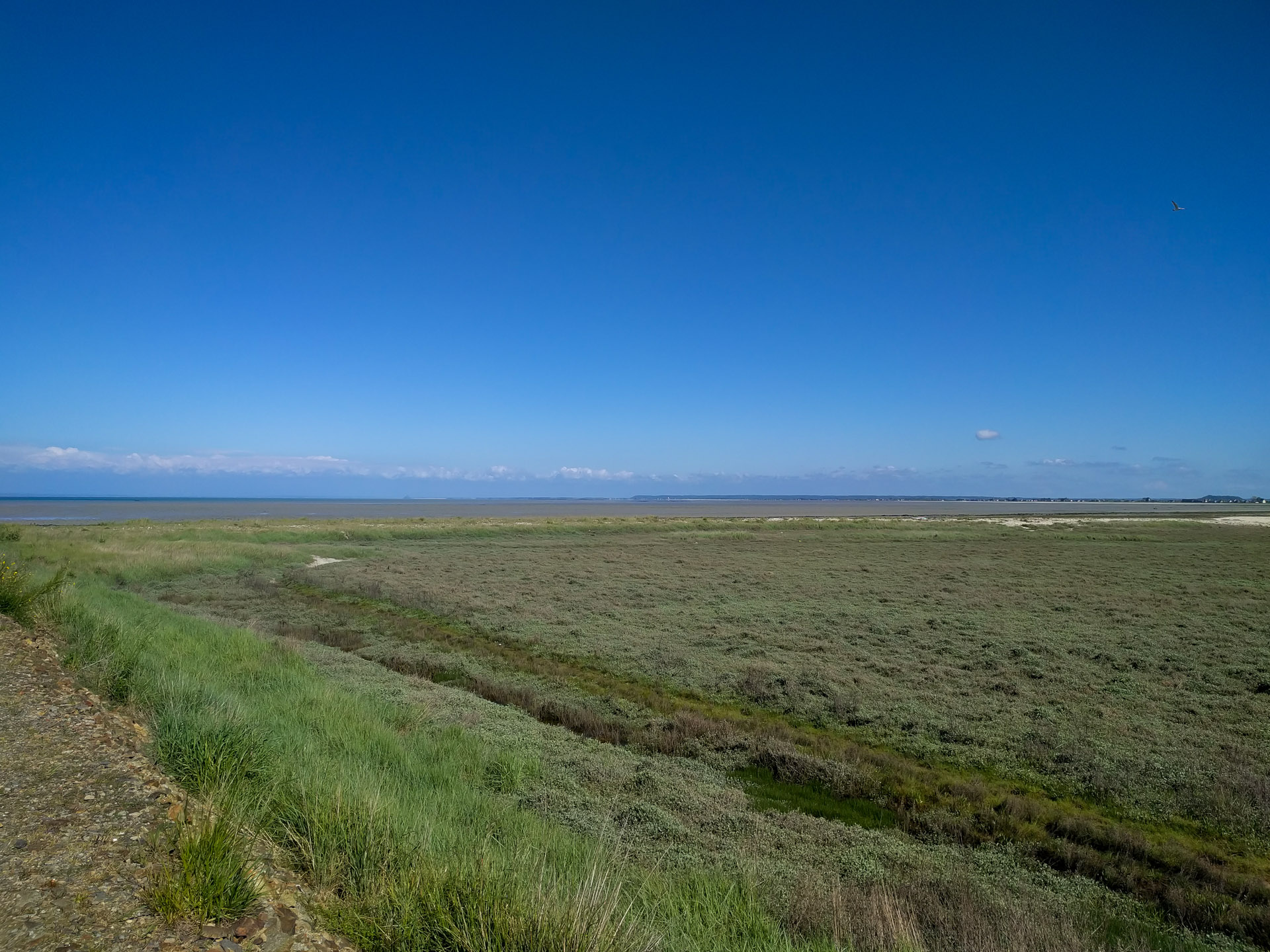 Camping de L'ile Verte in Saint-Benoit-des-Ondes
Thursday, May 9th 2019 Neolithic sites and Saint-Benoit-des-Ondes
Packed away in the dry, not a lot to do as no awning to pack. We backtracked to see a couple of Neolithic sites, before heading on to our next overnight stop.
The first Neolithic site was La Pierre Toureresse, a 25-minute drive. Google took us down a residential road to a field and wanted us to continue on an agricultural road where, according to a sign, only farm vehicles were allowed. We stopped, parked and walked down the track. After a few hundred meters we came to the site. The site had been excavated and documented. Not a great amount to see and we were soon on our way. No signs to the site.
The second Neolithic site was the Tumulus de Colombiers-sur-Seulles, a further fifteen-minute drive. This was a larger site with a large barrow. There was a small car park off the side of the road where we parked safely. Then we could walk a few meters to see the barrow. An earth mound with a lot of neatly placed stones at the base. A lot of reconstruction had been done to make it look like how the archaeologists think it should be. Some explanatory notes and also a reconstruction of a Neolithic dwelling (or shed).
We drove to the coast at Arromanches-les-Bains and sat at the cliff top to eat lunch and look out at the sea at the remains of Mulberry harbours built during the D-day landings. It is so sad, but amazing how quickly these engineering achievements were built during wartime.
Headed on to our new campsite in Saint-Benoit-des-Ondes, passing around Bayeux. Before we arrived at the campsite we visited our third archaeological site of the day, called d'Outre-Tombes. This one again Google wanted to take us up some rather grassy uphill roads. We ignored these and found a road which was signposted, metaled but narrow. Again a not impressive array of stones, which did not correspond to the map. Presumably, because the French had used this site to demonstrate the way stones could be moved without machinery. One stone had the following notice on it. 11 Juillet 1999 a l'aide de cordes, 173 personnes ont deplace a la force de leurs bras, ce bloc de granit de 31.5 tonnes, sur une distance de 13.11 meters. A second block had: Juillet 2000 l'equipe de 'C'est pas sorcier' est venue filmer por la television, la technique de levage de ce menhir. All I can say is in 6000 years some archaeologists excavating the site will be confused by the locations of the stones.
Arrived at the campsite Camping de L'ile Verte in Saint-Benoit-des-Ondes, erected awning, achieved an impressive time for this, and then went for a walk. The campsite had nice large pitches with high hedges. Made for privacy, but R was claustrophobic. The site road was narrow, and the hedges went to the road which did make parking and positioning a tad difficult, especially with the caravan across the way having its towing hook almost on the road.
During our walk, we noticed a few restaurants and oyster outlets. The place selling oysters had its own washing tanks and large arrays of oysters in tanks of water. Impressive. Could not understand why there was no security over the tanks.
Friday, May 10th 2019 St Malo and Cancale
Today was meant to be a wet day. Stayed dry for longer than expected. We travelled to St Malo to fuel Morrison. Down to his last 70 miles, he had done well with 644 miles on the one tank of fuel from the UK. 111 Euros spent and he was replenished. The supermarket was huge, R bought herself a sweater, so was now warm. Can't say the vegetable counter was any good, so little choice. Also, the cheese counters seem to have shrunk from what they used to be. A few ingredients for meals purchased.
We then attempted to park in St Malo by the docks but failed in this endeavour. All carparks have a 1.90-meter height restriction, and most parking on the street required payment at meters and we had no coins.
We gave up and went for a drive around the headland and back to the campsite. Stopped at a nice beach called Plage de la Varde , ate lunch and managed a walk, and then down came the rain. Continued to Cancale and looked at the hundreds of fruits de mer shops. Back at the campsite supper and then the rain all night long.
Saturday, May 11th 2019 Lunch out in Saint-Benoit-des-Ondes
The ground outside was very soggy after the overnight rain. Slow getting up, waiting for the sun to show behind the clouds. Went for a walk along the shore, investigating the restaurants. We eventually chose the nearest, called Carte Sur Table. Quite a nice looking restaurant inside. It does have two outside areas for dining. The front terrace and the garden terrace at the back. We chose to dine inside as it was not yet warm. Unfortunately, when we entered we were the sole dines, though a few more turned up later.
An Amuse Bouche was immediately presented. It was very tasty cold mushroom soup.
I chose Oysters to start with, and Rosemary a salad. Her salad was huge, while I received more oysters then I thought were arriving. Oysters were predictably lovely.
For the mains, I chose John Dory. John was quite large and was presented with potatoes, cauliflower and carrots with a sauce on the side. R started with a salad (again!), followed by cod stuffed with leeks and bacon in cream sauce. For the end, R went for some vanilla ice-cream, while I had a selection of smelly, local cheeses.
The afternoon was predictable spent snoozing in the warmth of the canopy. A quick walk by Steve to earn his Heart Points.