Outward bound to Iceland Friday 6th March 2020
We drove to Heathrow to catch our flight to Iceland. We parked in the long stay, wrote down our location and caught the bus. Having negotiated the tedious check-in procedures we were soon in the departure lounge. Part of the check-in process was to be asked if we were flying on to America, and if so had we been to Italy. In departures, I decided to buy a bottle of Lagavulin 16. No cheaper than in Tesco, but at least I can take it on the flight, and it will be cheaper than in Iceland. The flight was not busy, was this because of the virus? At Keflavík International Airport most of the passengers stayed in departures, as they were continuing on to the US. We soon had our bags, I did purchase some cash from a cash machine near the bag pickup area. I would advise against this, Iceland is pretty well cashless these days, so use your debit card. Nowhere did I have to spend cash, and we ended up having to spend it to get rid of it. We also couldn't use a precharged debit card, as the Icelandic currency was not supported by our Post Office card,
By now we had met up with the other passengers and the tour leader. We took a coach to the car hire location. Here the leader picked up our minibus. Our trip was to take us to our hotel, driving initially along the coast. We set off just before the sun was setting, arriving at the hotel after sunset. We did stop at one place to see a lone Harlequin duck swimming in a river. There was not much wildlife outside. Outside of the van, it was bitterly cold, the weather was bright and sunny, but there was a cold, icy wind.
We arrived at the hotel Eldhestar, a single-storey hotel. The hotel is geared around horse riding in the summer. We were treated to views of the ponies as they were moved around. Many of the surrounding buildings were stables. Also staying at the hotel was a male choir who provided us with an impromptu entertainment during our evening meal.
Spotted: Harlequin Duck, Eurasian Wren.
Alþthing, Strokkur, Gullfoss and Skálholtskirkja, Saturday 7th March 2020
I do love continental breakfast. This hotel was no exception. I gorged myself on the cold fish, cheese and meats. I was well-filled before we climbed aboard the minibus for our trip around the tourist sites. The weather was sunny and cold. On the way to the first stop, we had to wait a little while as a car was pulled out of the snow and up the hill by a breakdown vehicle. Someone had slid off the snowy road in a dip where the snow had drifted.
Our first stop was at the bottom of a hydroelectric power station. Here we were able to view some Mallard and Whooper Swans. We then drove to the top of the hydroelectric lake where we should have been able to see some more birds. We did spot a Barrows Goldeneye.
Stop 3 was at the Thingvellir National Park. Here there were some nutters scuba diving in the lakes which were covered with ice. We walked around the small church, Þingvallakirkja (Þingvellir church) and the location of the old Icelandic parliament. The parliament still comes here for a couple of weeks in the summer. There was some lovely walking around here, where you could see the volcanic layers. Some breathtaking views from the ridges. We ended up in the visitor centre for a sandwich lunch before returning to the van and on to our next stop.
Stop 4 was at Geysir where we could see the active geyser called Strokkur and the inactive geyser called Geysir. The place has changed since we were last here back in 2000. There is a large new hotel there now. Sorry for so many photographs of Strokkur, I took a long sequence of pictures for one eruption.
Stop 5 was Gulfoss where we walked along the top of the frozen falls. We could not walk up close along the lower paths, they were roped off after being deemed dangerous because of the snowfalls. Spent some time warming up in the visitor centre, though not buying anything. Prices were too high: Managed to get a picture of a Northern Raven soaring on the cliffs over the falls. The falls had also changed since we last visited, a large visitor centre having been constructed.
Stop 6, we did a picture opportunity of some Icelandic horses. Cute creatures, so hardy standing out there in the cold and snow.
Stop 7 and it was the Skálholtskirkja cathedral. The cathedral is miles from any inhabited areas. The present cathedral was consecrated in 1963. There is a re-creation of the old Icelandic Cathedral on site. Where the cathedral is located is considered one of the most important places in Iceland from 1056 until 1785. It was one of Iceland's two episcopal sees. While we were there we saw a lovely flock of Snow Bunting flying into the trees. No photos, wrong lens. No problem, there were plenty of Snow Buntings on later days.
It was now back to the hotel for some 16-year-old Lagavulin and dinner. I apparently was not the only one to buy some whisky for an evening drink.
Spotted: Whooper Swan, Eurasian Widgeon, Mallard, Tufted Duck, Barrow's Goldeneye, Common Merganser, Red-breasted Merganser, Great Cormorant, Northern Raven, Snow Bunting.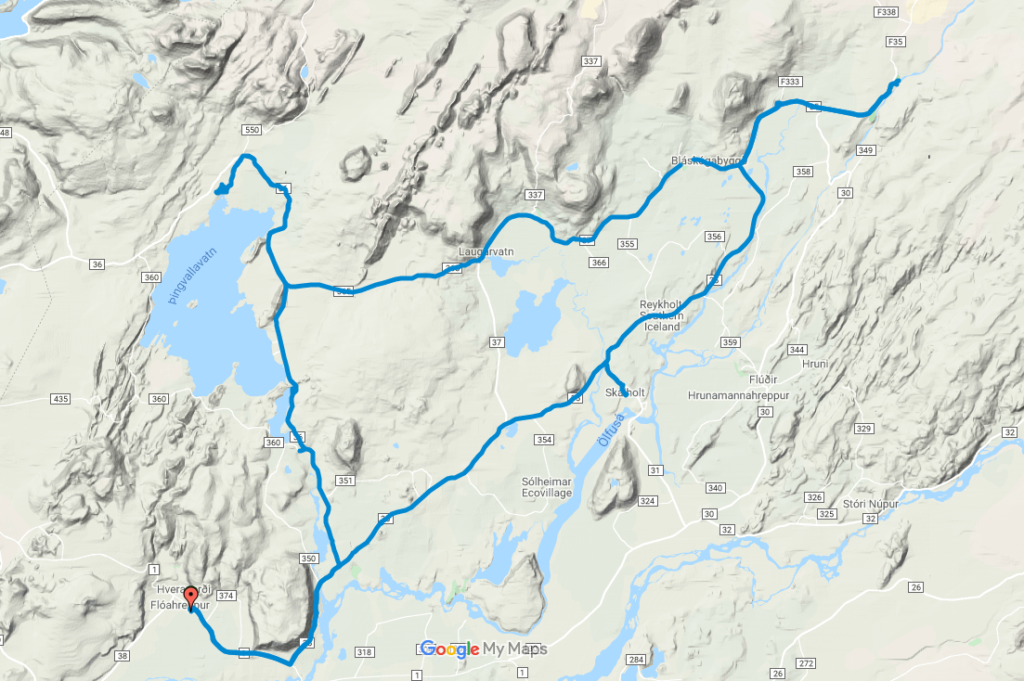 Stykkishólmur and Orca watching Sunday 8th March 2020
Today there was the long drive to Stykkishólmur. We should be stopping off at Olafsvik for the Orca hunt. The news was not good though. The wind was strong, the forecast was bad, and the sea was rough. It looked like the Orca viewing would be off. Despite several phone calls during the day, and the weather not seeming as bad as forecast, the boat trip remained off.
We first drove to Reykjavik and did a whistle-stop tour of the city, before heading North, through the tunnel under Hvalfjörður. We stopped for a coffee and some cakes on our journey. On entering Stykkishólmur we had lunch in at a bakery called Nesbrauð ehf. After lunch we spent quite a time at the port searching for birds, spotting European Shags, Great Cormorants, Black Guillemot and various gulls.
We then drove to an industrial area of the town, where we thought we might get a different view out to sea. We were made to feel unwelcome as there were large trucks reversing, picking up their fish cargos. So we left.
Next stop was to the West, Grundarfjörður and its small harbour where we saw flocks of Snow Bunting, with many of them sheltering amongst the harbour wall rocks, they looked a little like cobblestones from a distance. There were many lovely Northern Ravens flying around, seemingly pairing up for Spring.
Back to the hotel Foss, a larger multi-storey affair. This seems to be under renovation for the summer. Reasonable room with a walk-in shower. There was a good view of the town, directly towards the church. It may be possible we will see the Northern Lights from the comfort of our room.
After supper, we did look out over the town, no Northern Lights. Our tour leader said he would keep watch and wake us if and when they arrived. So alas no Orcas and no Northern Lights. Hopefully better luck on Monday
Spotted: Greylag Goose, Whooper Swan, Eurasian Widgeon, Mallard, Tufted Duck, Common Eider, Common Merganser, Red-breasted Merganser, European Shag, Great Cormorant, Eurasian Oystercatcher, Purple Sandpiper, Black-headed Gull, Great Black-backed Gull, Glaucous Gull, Iceland Gull, European Herring Gull, Black Guillemot, Northern Raven, Common Starling, Snow Bunting.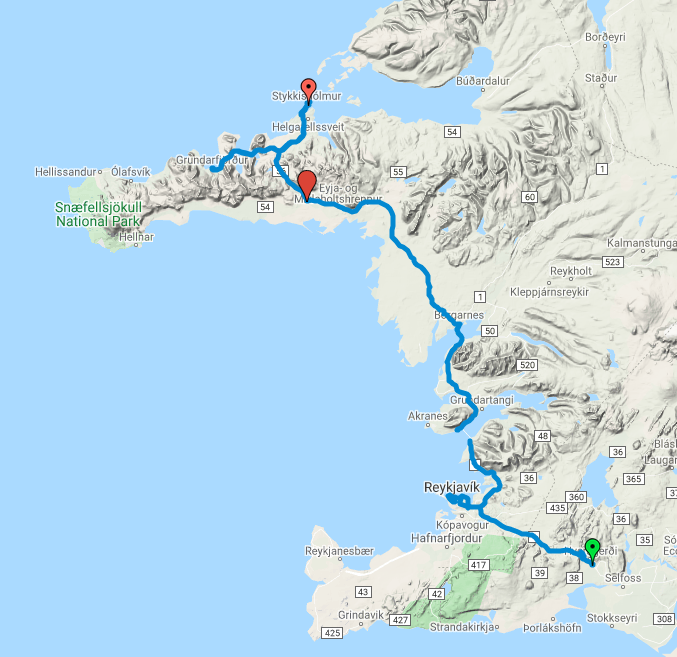 Snæfellsjökull National Park Monday 9th March 2020
The news was not good, looked like no Orca spotting this trip. We could try from the land and we did stop at a few viewpoints on the way. No luck.
We started the day with a quick trip to the Harbour. Not much was going on, so we were soon on our way West. We stopped at Grundarfjörður (2) with the inevitable tour of the harbour, again nothing worth photographing. A few metres along the road we stopped again for a viewing point of the Kirkjufell Mountain (3). It is quite impressive.
Another viewing point along the road was high above the sea at Búlandshöfði View Point (4). Here we looked out to the sea. Would there be any Orcas breaching? In the rough sea, they were going to be difficult to spot.
We made another stop down to the coast (5) where we viewed many different gulls and Oystercatchers. Totally confused by gulls. They change their plumage as they age.
Next, we went on to the Port Ólafsvík (6) where we should have taken the boat out to see the Orca. It was obviously all closed up. We had a coffee here and watched a display by the Northern Raven. Many Snow Buntings were landing on the roofs of the house opposite.
We continued on, dropping in on the village of Rif (7) and then towards Skarðsvík Beach (8). It was a narrow road with a steep camber. Here we managed to slip off the road. We pushed, we dug and only made matters worse. Other people stopped by to help, some of our weaker members were placed in the other vehicles for save keeping. Rosemary was at one time unceremoniously dragged across the ice by me and another man because she was about to be squashed by our van when it was reversing. Eventually, a phone call was made, and a truck arrived and pulled us back on to the road.
While we were standing around in the icy blast, we realised how in-hospitable the land is around here. There is no way you can walk across the country, you would soon be torn to shreds by the sharp ragged lava rocks.
Once back in the van we headed back to Port Ólafsvík (9) for lunch. The best lunch. Surprising how restrained we were in ordering our food when it was being paid for by Naturetrek,
Continuing our journey around the Snæfellsjökull we headed back towards where we had slipped off the road, instead of going down to the beach, we kept to the main road. Our road looked very pretty with the drifting snow blowing across it. At Londrangar (10) we stopped to view the birds from the top of the cliffs, and of course the two rock pinnacles.
At Hellnar (11) we drove down to see the Bárðar Saga Snæfellsáss Statue.
It was now back to the hotel, completing the circuit around the Snæfellsjökull. It was our final meal, and the final chance to see the Northern Lights. Sure enough, that night, there was a banging on the door and a phone call. The lights were visible, but we couldn't make them out. Let us face it, we are in a solar minimum, so the chances of seeing a good display were pretty non-existent. Maybe a cruise up the Norwegian coast in five years time, when CORVID 19 should not be an issue, and the sun will be at its maximum.
Spotted: Eurasian Widgeon, Mallard, Common Eider, Common Merganser, Red-breasted Merganser, Northern Fulmar, European Shag, Great Cormorant, Eurasian Oystercatcher, Turnstone, Purple Sandpiper, Black-legged Kittiwake, Black-headed Gull, Great Black-backed Gull, Glaucous Gull, Iceland Gull, Northern Raven, Common Starling, Snow Bunting.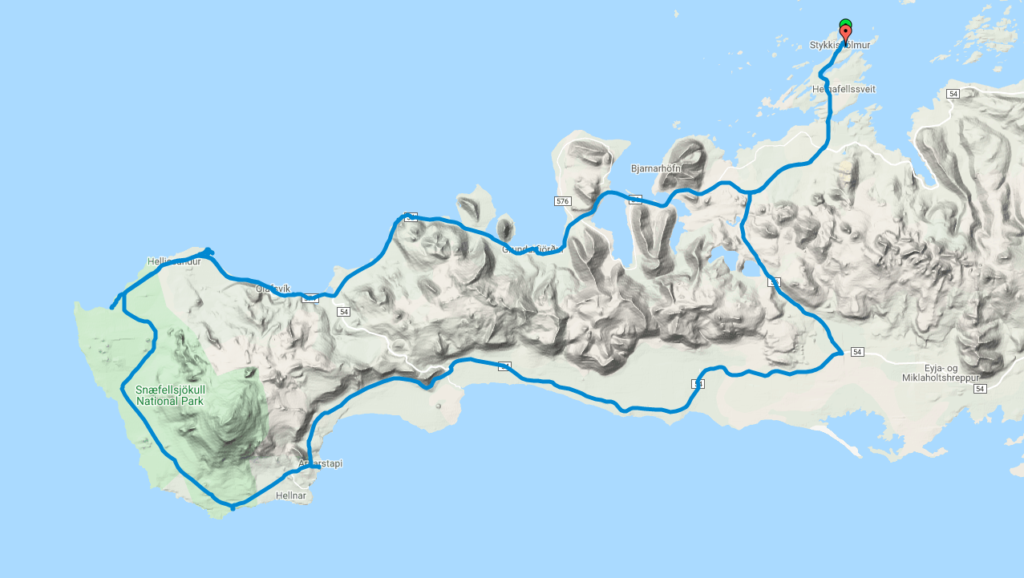 Back home Monday 10th March 2020
It was now time to go home after our short break. Breakfast and then the trip back home. We started off with a quick visit to the harbour, and then the drive South. A coffee break at Kjalarnes, before heading past Reykjavik and finally stopping on the coast near Keflavík. Here we did some bird spotting in the harbour and park. A quick lunch at a bakery, Kornið bakarí and then to the airport. Finished spending all the remaining money and caught a fairly busy flight home.
We managed to complete a foreign destination holiday before Lockdown started. We were conscious of the CORVID 19 virus while we were away. Despite Iceland having a good record on CORVID 19, we did not see any particular restrictions, social distancing or hygiene actions in the hotels or restaurants There were some signs in the airport, but nothing at Heathrow.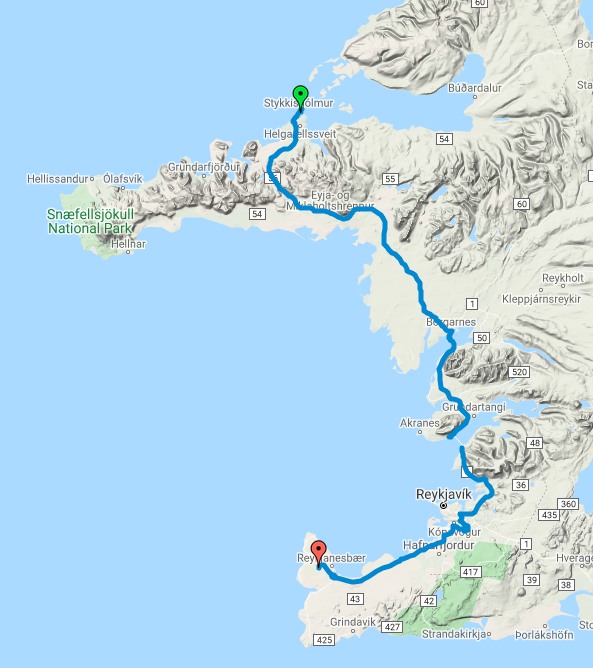 Complete interactive Google map of trip.
The Google Interactive map can be zoomed into, and shows the stop points for each day.
Complete Travel Map