15th September 2022
Today we loafed around the campsite until midday and walked to the town along the beach. We saw that an Aires De Camping had been changed into a normal carpark. Whether it had been moved, or closed completely, I am not sure. Last time we walked this route you could see those in their motorhomes eating lunch in the narrow gap between each home.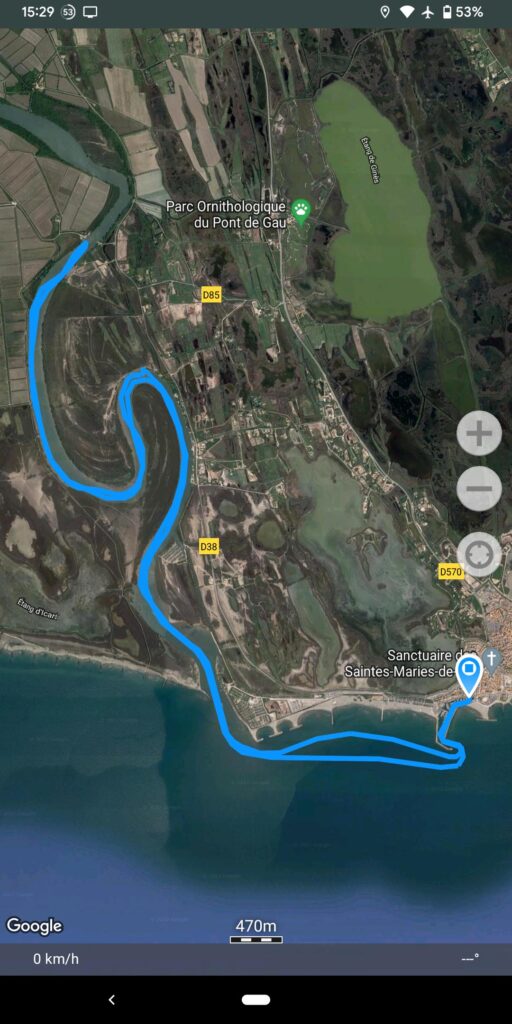 We were aiming to catch a boat to view the Le Petit Rhone river and see the Camargue from the water. We had booked the trip online for 30 Euro. We arrived early and sat on some seats basking in the sun awaiting the boat. There was more than one company operating, the first boat left at 14.00, then our boat came in and moored, and we boarded and left at 14.30. Rosemary was the only one to show her ticket on her phone, while everyone else presented their paper tickets. We are modern technologists.
We sat in the sun on the top deck, and were soon motoring out of the harbour, then travelled east along the coast to the mouth of Le Petit Rhone. It is apparently quite shallow at this spot and also choppy.
On view were egrets and herons. We were looking for kingfishers, but none were to be seen. On land there were the Camargue horses and of course the Bulls. There was one place where a tourist show was put on, a handler on shore wearing traditional Camargue dress, herded down some horses and bulls. There were some cute bull calves on show.
Further up the river there were horses and bulls grazing in the fields. We also saw fishing nets used to drag fish from the waters. The fields between the twists in the river were grazed by cattle or fields of Camargue rice.
Our trip up the river ended at a free chain ferry allowing the D85 to cross the river. Here we turned around and headed back to base.
After the trip we had a glass of beer in a nearby bar.