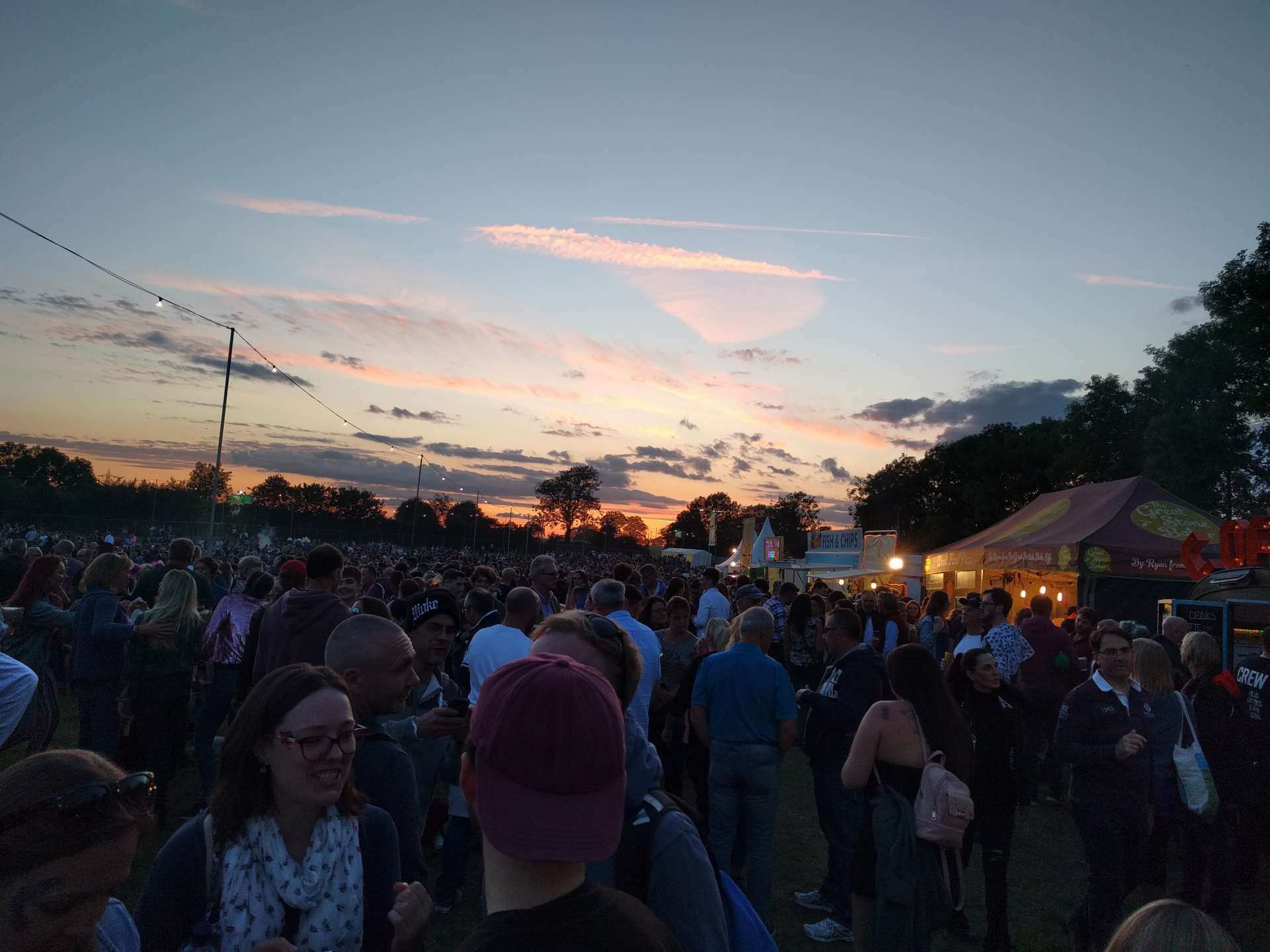 During the Glastonbury Abbey Extravaganza I knew the Pilton Party tickets went on sale. While R and I were drinking at The Who'd A Thought It pub we saw the ticket office queue, snaking around the corner. After our drink, the queue was smaller. I joined and left with a ticket, cash only. Any tickets left over went on sale on Monday in the village of Pilton. The rest went on the Internet. None made it to the Internet, all tickets sold on the two days with no national advertising. It is supposed to be a local event.
On the Friday I drove down to Somerset, had lunch at the The Who'd A Thought It pub and then bought four special Torsy Moorsy fruit cakes from Burns the Bread. Headed over to Pilton and parked in the party car-park. Camping is not catered for, but there were a few vans, and overnight many cars were left in the car park. I parked next to another camper who had been at the Glastonbury Abbey Extravaganza, and had been next door to us.
Walked up to the field where the event was held. It is near where the John Peel stage and The Wood is. (At least I think so.) It was all fenced off, bar food and stage. Somewhere like 4,000 people were expected, and the weather was lovely.
First on were two winners from the long-running Pilton Working Men's Club 'Battle of the Bands' competition, UK:ID and Arcadia Roots. As you can see not many came to see UK:ID. A rap band with a woman singer who was very good. I saw a tweet which is asking for bands to audition for next year's Pilton Party. Though Glastonbury is not running, the party is. Watch this space.
Next up on the line-up is the fabulous Declan McKenna, who won the Emerging Talent Competition in 2015. And finally topping the bill this year were the incredible Bastille, who were last in Pilton to play a triumphant set on the Other Stage at Glastonbury 2016. They also had played Leeds & Reading in 2017, where I saw them with Selina..
I have a few pictures of Michael Eavis, should have got a selfie with him. Was so close.
Back to the camper van where I slept, very noisy in the car park, the party seemed to go on there for a while. In the morning after a lie in, headed off to find some brunch at a cafe called Hartleys Kitchen. Its on a country industrial estate and seemed very popular with cyclists on a Saturday. Two groups, one with normal bikes, and another with the latest carbon bikes and SPDs.