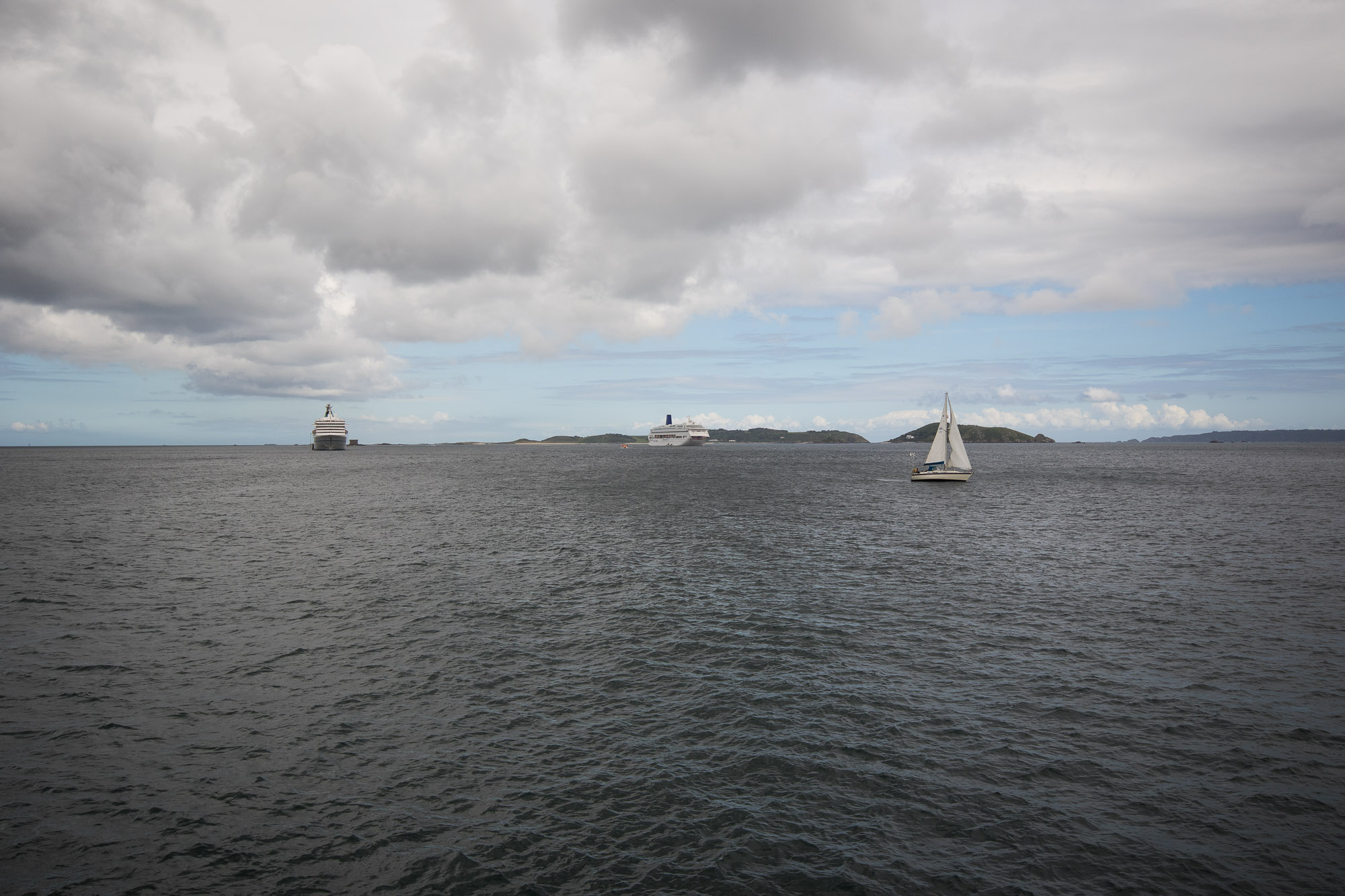 Always be prepared. Today the forecast was sun and no rain. So, casting aside jackets, we set off to the Little Chapel. We had not even left the campsite when were caught in a deluge. I quickly retreated to Van the Van and retrieved waterproofs. Off we set in the rain which soon stopped for the rest of the day, although my hat was a tad soggy.
The Little Chapel was open having been closed for renovations since November 2015. It had been cracking up as part of the chapel had been built on granite, while the other side had been built on earth. The roof had also been repaired and looked greatly improved. There was a continuous arrival of tour buses, stopping for 20 minutes, disgorging their load, waiting and picking them up a few minutes later for the next stop on Guernsey. Many nationalities. We soon discovered there were two very large cruise liners in at St Peter Port.
After eating our cheese rolls, we caught the number 71 bus to St Peter Port and disembarked on the quayside. A walk around the High Street looking at what had changed. The Apple store had moved and grown larger. Managed to dissuade a sales person from speaking to me by showing him my Android phone, at which he backed off in horror. The shop selling kitchen equipment had changed into an outdoor ware shop. Amazingly HMV was still in existence. Down on the docks, the slaughter house had turned into a bistro and bar called, highly originally, The Slaughter House. We thought the same had happened to the fish shop. But it now sells fish and meat, so is called the Surf and Turf. Our confusion was justified. Luckily some things don't change. The same pubs selling the same beers.
Walked to the lighthouse near Castle Cornet, having checked out the yachts in the various harbours. We watched the two cruise liners (one was P&O's Oriana) being loaded. Huge queues of passengers at the port waiting to re-embark onto the cruise ship tenders. Fascinating to watch. Thankfully not us. Unfortunately, my Canon 100-400 telephoto lens began to play up and wouldn't always focus. Rosemary was of course deeply suspicious of this and thought nervously of all the camera shops.
We caught the 61 bus back to Kings Mill (straight back, no dawdling around camera shops) and walked the hill back to the campsite, where I am drinking my JD & Coke in the sunshine. Could do without the wind.