I had a night away in Bradford, yes the early get up, the rush to Stevenage and train to Leeds, then on to Bradford.  At least I can get a couple of hours sleep on the train.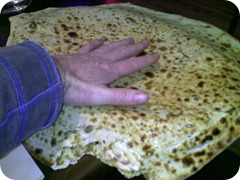 In the evening I did manage to get out and have a curry.  The first suggested curry house was rejected, lack of beers.  So Mike chose Omahs, a balti house, again dry, but what the hell, it was 9.00pm and we were hungry.
Started off with a mixed grill for a starters.  When I had finished eating that, a feeling of surfeit was already on the horizon.  Imagine my surprise at the Nan bread which accompanied my balti curry.  I was informed it was a small Nan. I should not have been surprised, on the door was a challenge, if you could eat one of their large Nans, then you could go away with £50.
We left having eaten well, leaving behind a substantial portion of food, all for £25.  Next week I will be a little more careful on choosing the quantities.