Volcano, I'm Still Excited!!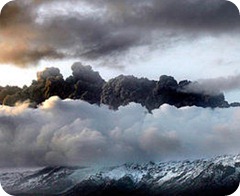 I had a short trip to Edinburgh this week.  I flew up from Heathrow to Edinburgh with British Airways on Monday morning.  I had tried to book a flight on the Friday evening, but found Easyjet were fully booked, and the price of Flybe from Birmingham was extortionate.  Train travel is also rather slow and expensive, so was rejected.  Last resort was BA.  For the sum of £43.00 I received my ticket to Edinburgh, I was able to take hold luggage at no extra charge (not that I had any),  I had bacon, egg, sausage and tomatoes, orange juice and coffee and daily newspaper on the flight for free, and could use the loo without charge.  I did not have to go through the indignity of proving who I was before flying.  Ryanair and Easyjet, you can go and get stuffed, BA is not over priced.
Terminal 5 was a good experience as well.
At work in Edinburgh, I found out how long I was staying, and booked my hotel through Last Minute dot Com.  Not such a good experience, they sent me to the wrong agency to check into the apartment I had booked.  Lots of walking and eventually a taxi, I was in my room.
Luckily I was there just for one night, any longer and I would still be there, stuck for lack of flights.  I am meant to be flying up there on Wednesday.  Will the ash cloud be being blown in another direction?  Let's hope so.