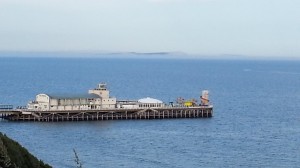 Warm evening, the pub was noisy as I walked past it. The raucous conversation, normally held inside, was now outside disturbing those quietly walking by. Down at the beach, it was a clear view to the west, but looking east towards the Isle of Wight you could see mist around the island, rising up from the sea. Yes you can see it, but the picture from the phone is a bit on the crap side. Thunderstorms predicted for tonight.
---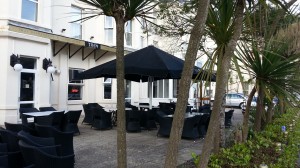 The evening meal was at a Thai restaurant called Tiien. Smart, seems part of a posh hotel, quite busy. I started with soup, usual Tom Yam something, with prawns. I asked for mine to be hot, and it came hot, very spicy hot. It brought tears to my eyes as I drank. Great stuff. Followed on with a vegetable stir fry. Yes, you read that correctly, no meat, vegetables.
Yes the Tiien Thai restaurant in Bournemouth gets a Blasdale star.