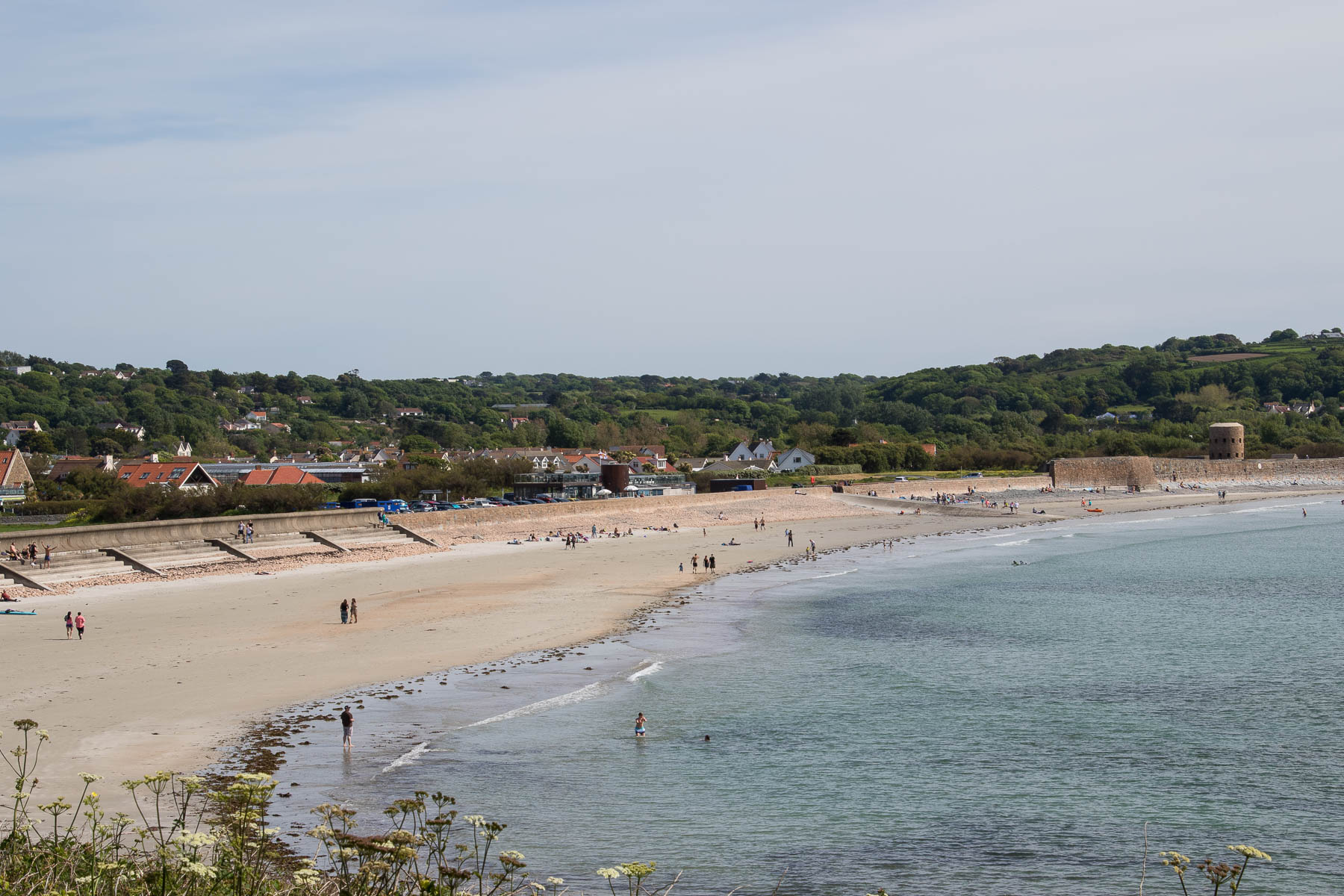 Lazing on a Sunny Afternoon
Today was predicted to be a sunny day with less wind, and a little warmer. Thankfully we could relax, the fridge had been giving us some cause for concern overnight and had been running incessantly. Couple of interventions during the night only made it stop running all together. I think maybe it was too cold at night for the fridge, operating temperature should be 16C, less than that and it can be inefficient! The instruction book says that. Sounds counter intuitive to me. Seems to be working fine now it's warmer. (Us humans are also working fine in the warmth.) Added to the fridge waking us, there was the peacock, whose idea of dawn needs to be modified. As far as I could see, there was not a glimmer of light in the sky. The cockerels did have the decency to hold off until you could see the sky line.
Today was Sunday, so off to Vazon Bay and La Grande Mare for Sunday lunch. We arrived at the shore around 11.45 and saw the stragglers of the Guernsey Ultra Marathon pass by. This was an around the island race on the coastal paths. These paths included all the steps up and down around the cliffs on the south coast. The run is 36 miles long, with a best time of a little under 5 hours. The stragglers we saw were half way around and 5 hours in. They would be hard pressed to make the 10-hour closing time.
At La Grande Mare, we sat by the outdoor pool and consumed our prepranidal drinks, Rosemary had a G&T while I drank a pint of beer. It was lovely and warm, while we watched a pair of Mallards take to the swimming pool and hot tub for a spruce up. Lunch was ordered which we ate in the restaurant itself, then sat outside again for coffee. Oh we saw Twinkle, the cat who used to visit us in the self-catering flat years ago. She must be getting on in years now.
After lunch, we walked along the beach towards Fort Hommet Headland. It was funny seeing the beach with people building sandcastles and going swimming. Rather different to October! After a pleasant walk along the beach we walked back to the campsite for a well-deserved beer on the sunset veranda. Now sitting outside Van the Van in the still warm sunshine sipping our drinks. So much more pleasant when the wind is not blowing. Forecast for the rest of the week is good. (On several peoples' authorities and not just Google's.)