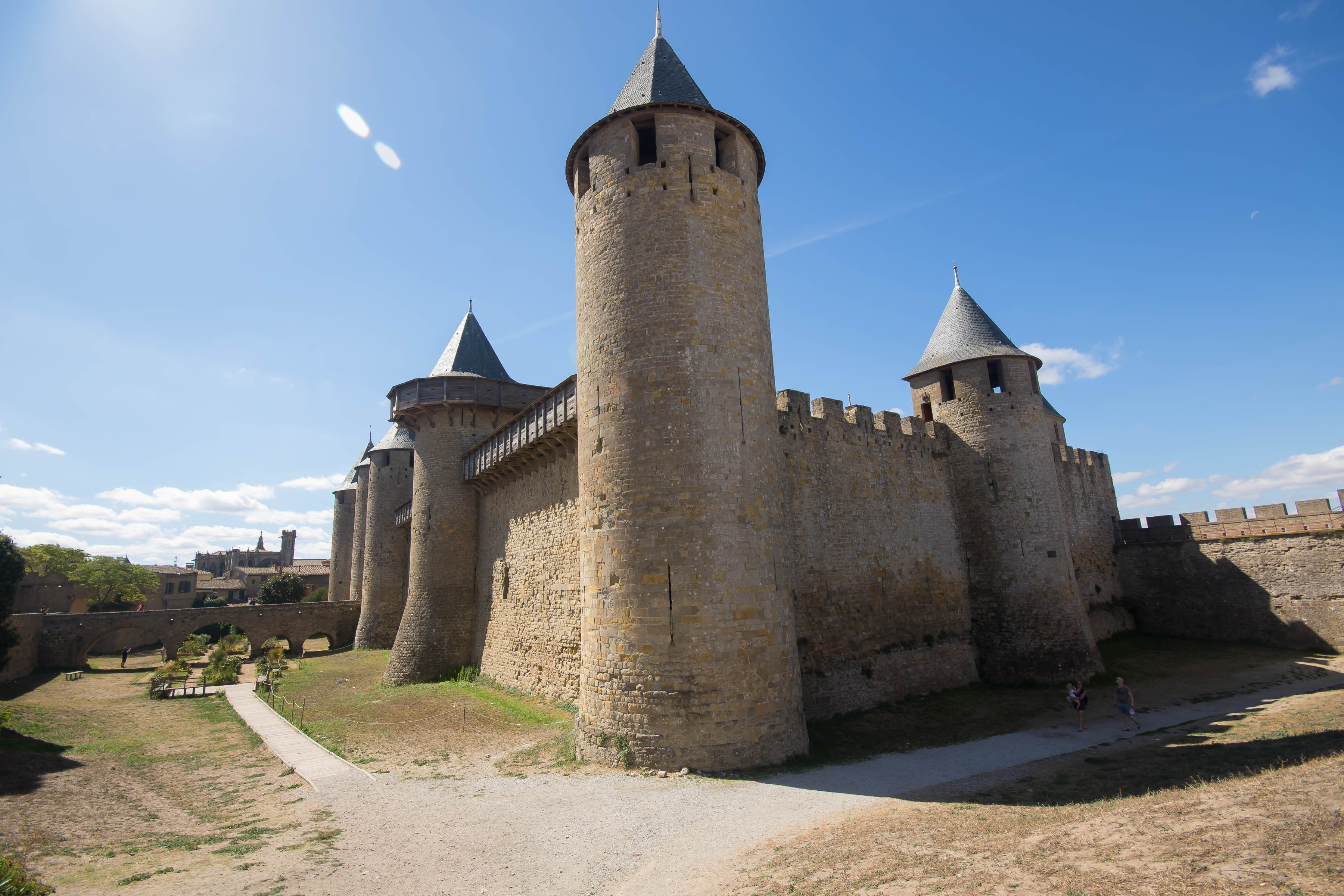 France day 10 – Fanjeaux
Wednesday was a very hot day. Probably too hot for a site seeing day. We met Nadine and paid for are camping and were suggested a tour we could do. The first item on the tour was Carcassonne. The directions we were given suggested bypassing the town of Carcassonne and taking signs to La Cite. This all went wrong, and we ended up driving straight through and parking in the centre of Carcassonne, where we paid a couple of Euros to park for two hours, and realised that was wasted money as 12-2 was free anyway. A short walk to La Cite which looked impressive from the outside. Inside we were confronted by lots of tourist shops, restaurants and bars. We walked around the streets, and the outside lower battlements which were free. We visited the church where we were entertained by five male singers, who Rosemary thought were Russian. After a couple of songs, they advertised their CD, which we both though was rather overpriced. Had it been, say 10 Euros, maybe we would have purchased one.
We made our way back to Van the Van, gave our ticket to a French woman and left for Lagrasse. The last few miles to Lagrasse were through some very tight hairpin bends. These though were just the build-up for our trip to Spain the next day.
Parked in a public carpark at Lagrasse, near to the police station for security. We then walked into town on the tourist circuit. Lots of long narrow windy streets with the odd artist shop, and of course the covered market. We crossed the river, passed the cemetery and arrived at the abbey. Stopped for a beer, toast and aubergine pate. We decided not to look around the abbey, there didn't seem to be much of it when we reviewed the Google Map pictures.
Back along the hairpins we arrived back at Fanjeaux hoping to buy some food at the grocer, but were foiled by Wednesday being half-day closing. The baker though was open. Back at the campsite supper and then sitting outside looking at the stars, and listening to the plops from the lake. There was a rather ragged looking grey heron wandering around the shores. Rosemary saw the heron when it made a rather unmelodious squawk. Not at all a nice sound.