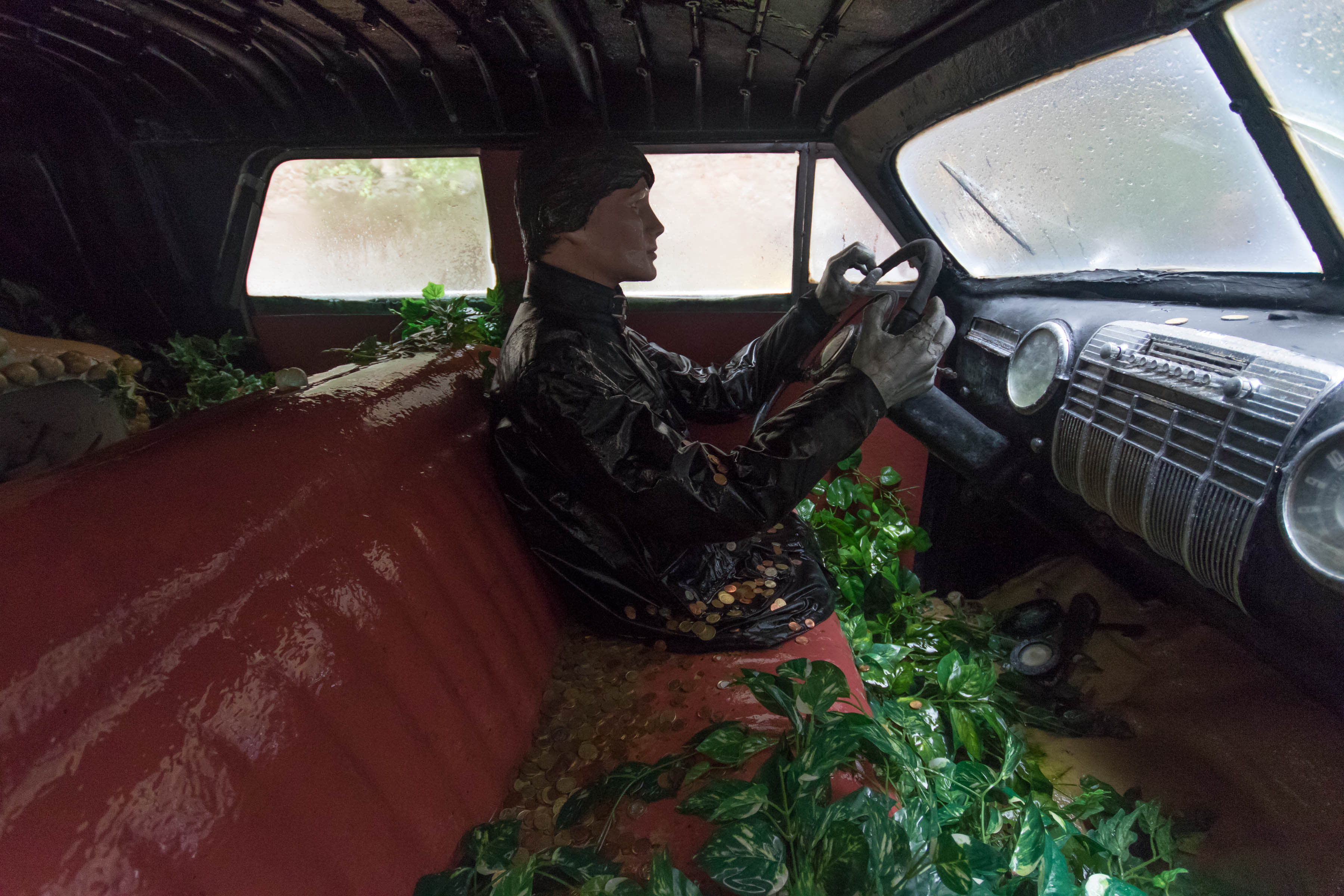 France day 12 – Dali Museum
Like many campsites, this one had visiting dogs with their owners. Therefore Rosemary was not surprised when a neighbour came out of his caravan and walked off with a lead. But when he came back, R saw not a dog attached to the lead but a cat, possibly a Norwegian Forest cat, ie yards of gorgeous tabby. She shot out of our van & spoke to the owner and so got to stroke said cat. There were also a couple of campsite cats. There were notices in the men's toilet block asking you not to feed them. R said there were no such notices in the ladies. Odd.
As it was wet, raining on and off all day long, it was an ideal day for museums, Lovely sunset though. We had come to Spain to visit the Museu de la Tecnica de l'Emporda. This museum was rumoured to have a wonderful collection of typewriters, sewing machines, clocks, telephones and other mechanical stuff from the late 19th to 20th century. It did not open until 4pm, so we elected to visit the Dali Theatre-Museum first. We parked in a multistorey car-park close by. Looked a lovely car-park, we were expecting high price to park, especially as we could see no published prices. Yes, it was expensive, more than 20 Euros. The spaces though were large for Van the Van, and undercover, so not much chance of damage or thieving.
The Dali Museum was superb. We also learnt Dali designed jewellery which was quite exquisite.
Today we broke for lunch and ate a meal in a local restaurant, sitting outside under the umbrellas. I was decidedly cold. Steak and chips for me, while Rosemary had some veggie type burger.
Still we some time on our hands and visited another museum of stuff, mainly paintings and artefacts from the area. Mainly Catalan. They did have one Dali painting and a few others from the '30s which were definitely by artists trying to jump on the Dali bandwagon. Not a particularly interesting museum, filled in some time, and had some loos.
Now to the typewriter museum. Two elderly staff, one woman and a man. A cheap museum to visit. There were no other visitors other than us two. We were shown around by the woman, who said she could do a tour in French or Spanish, so we chose French and got a gist of what she was saying. First was a whole floor of typewriters, from ones where you select the character and then press the key. There were typewriters from all over the world, Chinese, Japanese, American, French, Spanish and English, typewriters hidden in tables, typewriters designed for the war correspondent.
Downstairs there were sewing machines, again hundreds of different models.
The final floor was more mixed with lots of items covering life, bicycles, irons, radios, cameras, etc.
No chance to wander around on our own or take photos.
Now we were on our way back to the campsite, the weather was improving with some brightness over the mountains. This showed up the snow which must have fallen during the day. Our signpost off the N-II was not there, either too cold, or she was busy. Back at the site, beer, food and bed. The wind was gone, the rain had stopped. Rosemary somehow managed to collide with one of the campsite cats. The site is busy today, the weather for the weekend, and tomorrow bodes well.