Rosemary and I had a trip to Oxford today. Parking virtually impossible in Oxford, so you have to use the Park and Ride. Being retired, the cheapest and easiest way into Oxford is to park at the Bicester Park and Ride which is free. Then catch the S5 into Oxford, yet again free with your bus pass, and they supposedly run every 15 minutes. The website shows you live arrival times of buses, ours was a tad late.
In the city of Oxford, we went straight to the Library where there was an exhibition of books and magazines. The Bodleian is a copyright library so receives most publications from the UK. These included erotic publications, some of which were subsequently banned. The access to these publications was restricted and categorised as Phi. Students could see them for research purposes only with a written note from the Director of Studies. Most of the books displayed in the very public area were very tame, you could hardly believe any of them would have been banned in the UK.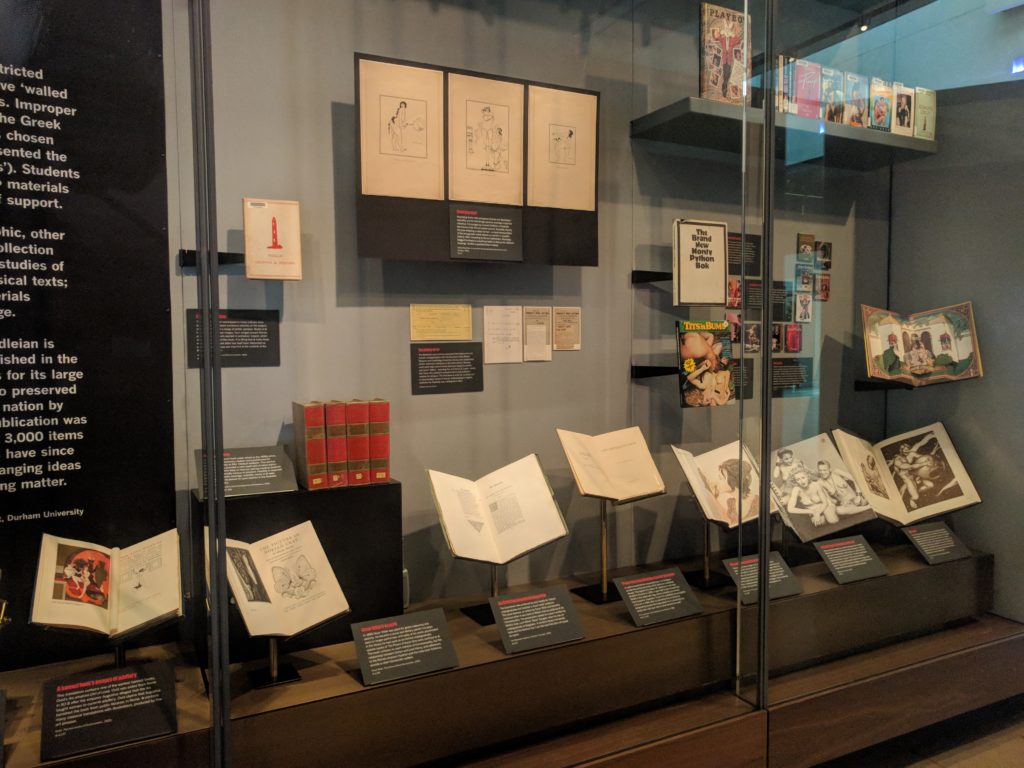 Next was the business of the day shopping, clothes shopping. Having spectacularly failed at this, it was time for lunch at the Cinnamon Kitchen, an upmarket Indian Restaurant on the upper floor of the Westgate shopping centre. There are several restaurants up on the roof. Many with outside seating for warm days. A token gave us a free glass of bubbly and we had a fine meal.
After lunch we had a look around John Lewis. They were still doing their Black Friday sale, and all the Google Equipment was matching the online Google prices. So tempted to load up with a few more Google Home Speakers. I was also looking for active noise cancelling headphones for travel. I did learn a couple of things though. Noise cancelling means two things, Noise cancelling can apply to microphones in the headphones enabling the other party to hear you above background noises, or it can be to remove the noise of the environment from the music you are listening to. Be warned, it's not obvious when you look at the devices. Most of the headphones on display were not working (battery flat), and to pair your Bluetooth phone to the device was nigh impossible, you had to find the device, and I have never seen so many Bluetooth devices available for paring on my phone.
Well after this, it was home time, but we had to go to the sweet shop for some aniseed balls. These were purchased at Hardys Sweet Shop on the High Street. It is so much further down the road than we ever imagine. We always believe we have gone past, and the shop has closed. Aniseed balls purchased for Rosemary. I won't touch them now after a large dentist bill to replace a cracked tooth; I tended to crunch them up with my teeth.