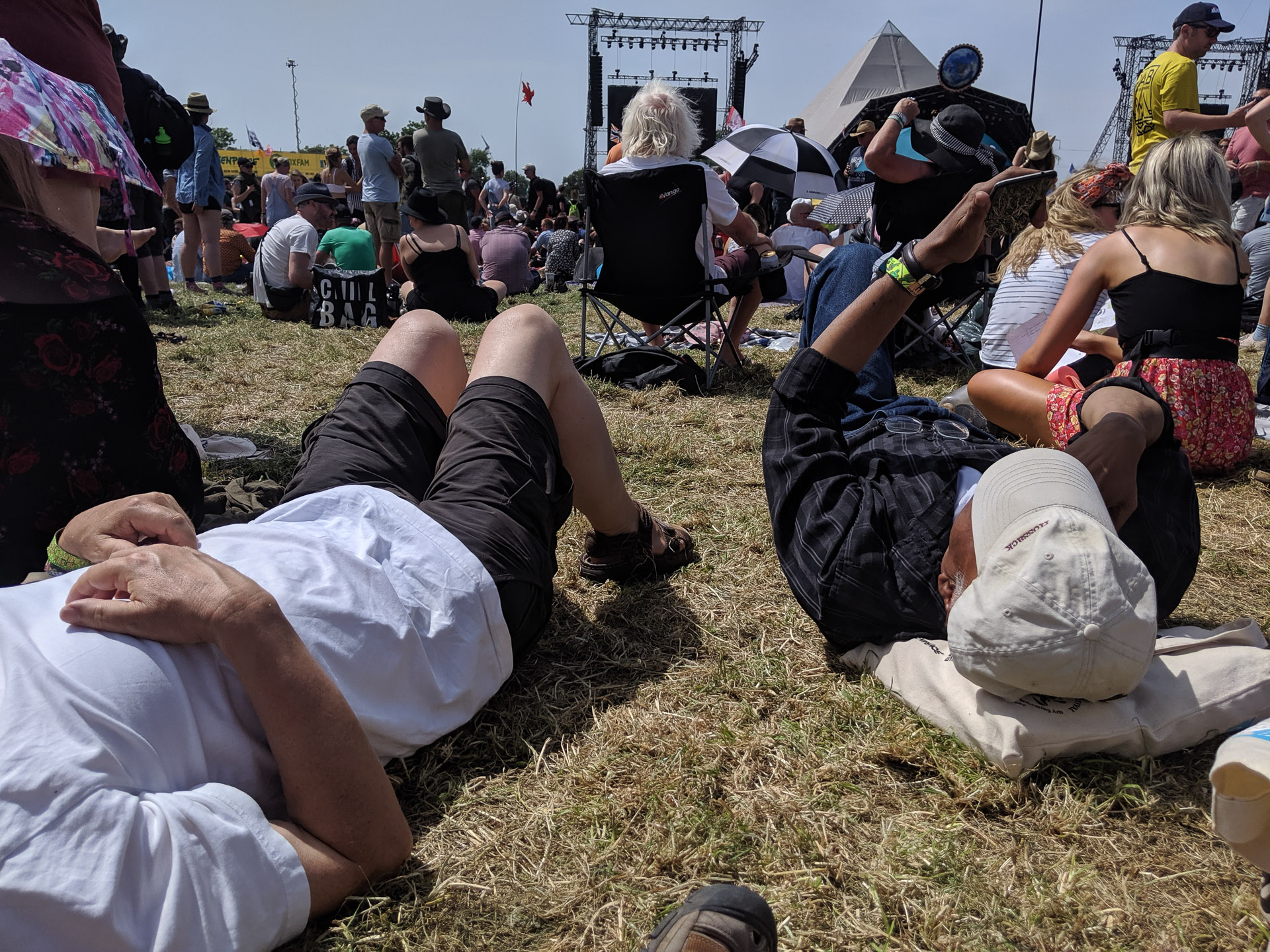 Glastonbury 2019 Friday
Yey, another bright and sunny day, it could though become a problem, because Saturday is forecast to be very hot. Already there are problems with the mains water pressure being low, and not filling the reserve tank for the showers fast enough, resulting in some of the showers being closed early this morning. Still, I was up early, showered and ready for breakfast. Those Pain Au Chocolate are something to die for.
Today was the first day the main stages were open. The first stop for me was to watch the Vaccines on the Other Stage, while Ravi and Simon watched Bjorn Again on the Pyramid. Back into the Hospitality Area for a beer to wait for R&S to materialise. They had been on the front barriers singing along to Mamma Mia and were very thrilled.
We then went onto watch Sheryl Crow and Bastille on the Pyramid Stage. (See Ravi dancing to Sheryl in the video.) S&R departed for dinner at West Holts. This was the last time I would see them until the morning. They had their eyes on Stormzy who provided an epic performance and plenty of Fuck Boris chants.
I moved near to the front of the crowd to watch Ms Lauryn Hill. She was late on and we were entertained by her DJ. Apparently, this is fairly typical. There were gaps between each song as she asked for her sound monitors to be readjusted between each song.
Supper and then I made my way over to the South-East corner to listen to a metal band Gojira, playing on the Truth Stage in Shangri La. Was an excellent choice. Decided to wait for a punk band called The Idles. While I was waiting, another Walkerite texted to say he was heading to the Truth stage for The Idles. Waving phone lights we found each other and enjoyed the show. This was the second time they had played today. Earlier in the day, they played at The Park.
We separated after the show, and I wandered back, stopping at the Unfairground to film a show with flames, and then the Avalon Cafe where there was a Sikh band playing.