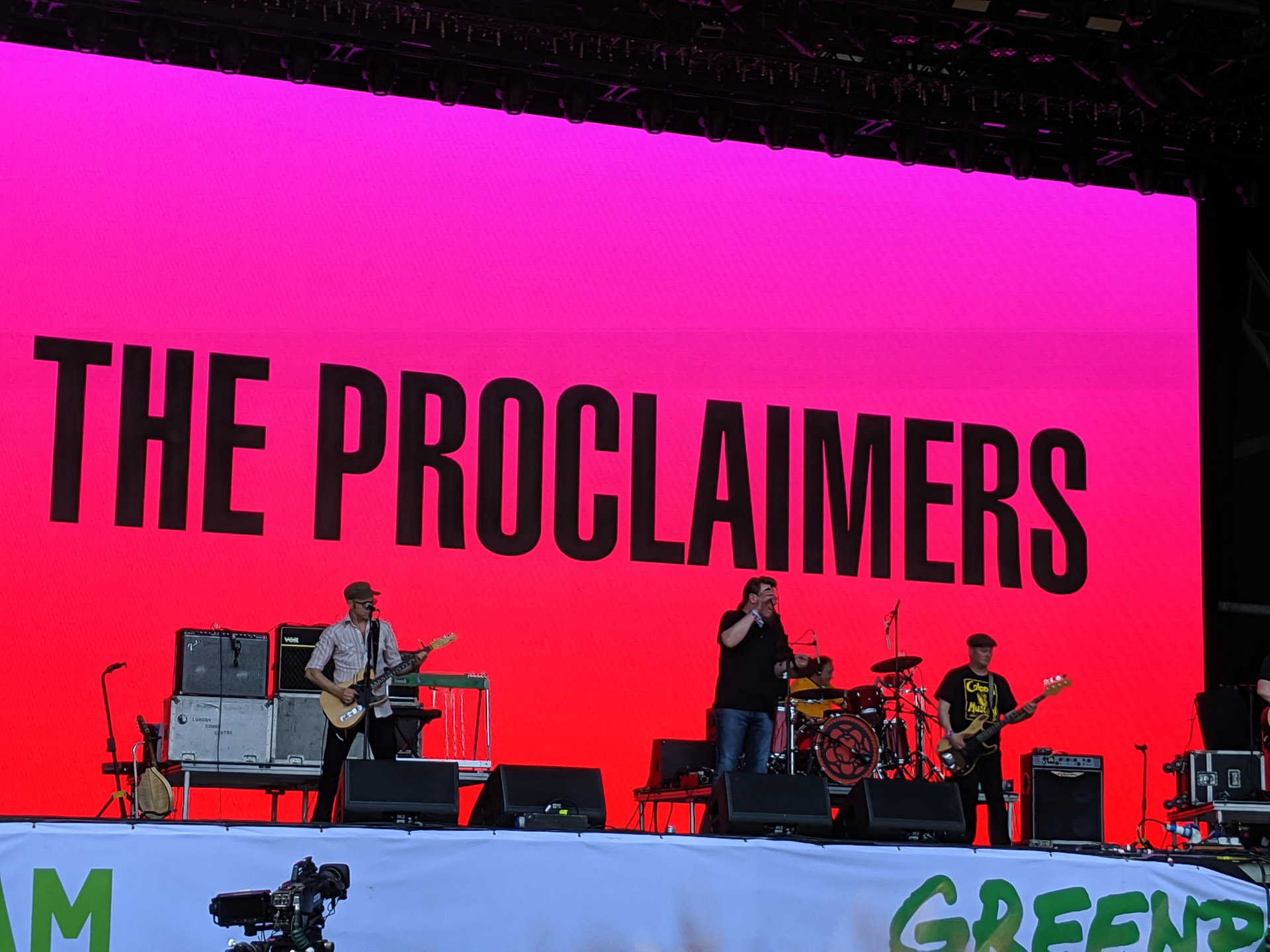 Glastonbury 2019 Saturday
Disaster, the showers were all closed this morning and would remain closed for the rest of the day. The Love Fields and other glamping sites had been requested to close their showers. The water supply in the festival site was in a dire situation, and with a very hot Saturday forecast they did not want the water to run out. My only comment is, who drinks water at festivals when there are Brothers cider and real ales in abundance?
We started the day at the Pyramid Stage to watch The Proclaimers. (Watch and hear Ravi singing along in the video.)
The rest of the day appears to be a haze, spent mainly at the West Holts Stage watching The Ezra Collective, Slowthai and Lizzo. I think it must have been the Brothers cider and the hot weather.
In the evening there was an abrupt change in temperature, the wind changed and the temperatures plummeted, the showers were still closed.
The evening was spent at a bar next to the Acoustic Tent where I had a JD, (no queues) and then some Real Ale. Simon bought some comfort food, Cheese Mac. So simple and so delicious. Suitably fortified we were then ready for Hawkwind. Simple, no graphics just smoke and flashing lights accompanied by their layered acoustics. Not a big crowd, but then The Killers were headlining the Pyramid Stage. You can see the age profile of those attending Hawkwind by looking at the bar photographs. A nice crowd though.
We three then went for a walk around the South-East corner before the crowds arrived, visiting Block 9 East (IICON), The Common (The Temple and Rum Shack), across to Shangrila to read the slogans on The Lanes and listen in at the Truth Stage. Leaving through the Unfairground, we went across into Block 9 West to see the Meat Rack. Was unable to persuade Ravi and Simon to enter the Meat Rack.
We parted ways, so I left R and S to walk through Avalon home, while I headed off down the railway line (busy) and diverted through Green Fields, to miss the crowds, and up to Strummerville where I sat near the fire and listened to the DJ. Headed down to The Park and hopefully Pangea. It was absolutely heaving in that area. I gave up trying to get anywhere near the dance area and only viewed Pangea from the distance. I had wondered what the huge sphere built around the base of the crane was. It was a screen, and what I saw was a huge iris and pupil rotating around looking like an eyeball. Watch at the end of the video. Fabulous, they will be next year, as I believe the crane will be there for four years.
I decided to head back to Love Fields. Showers still down.