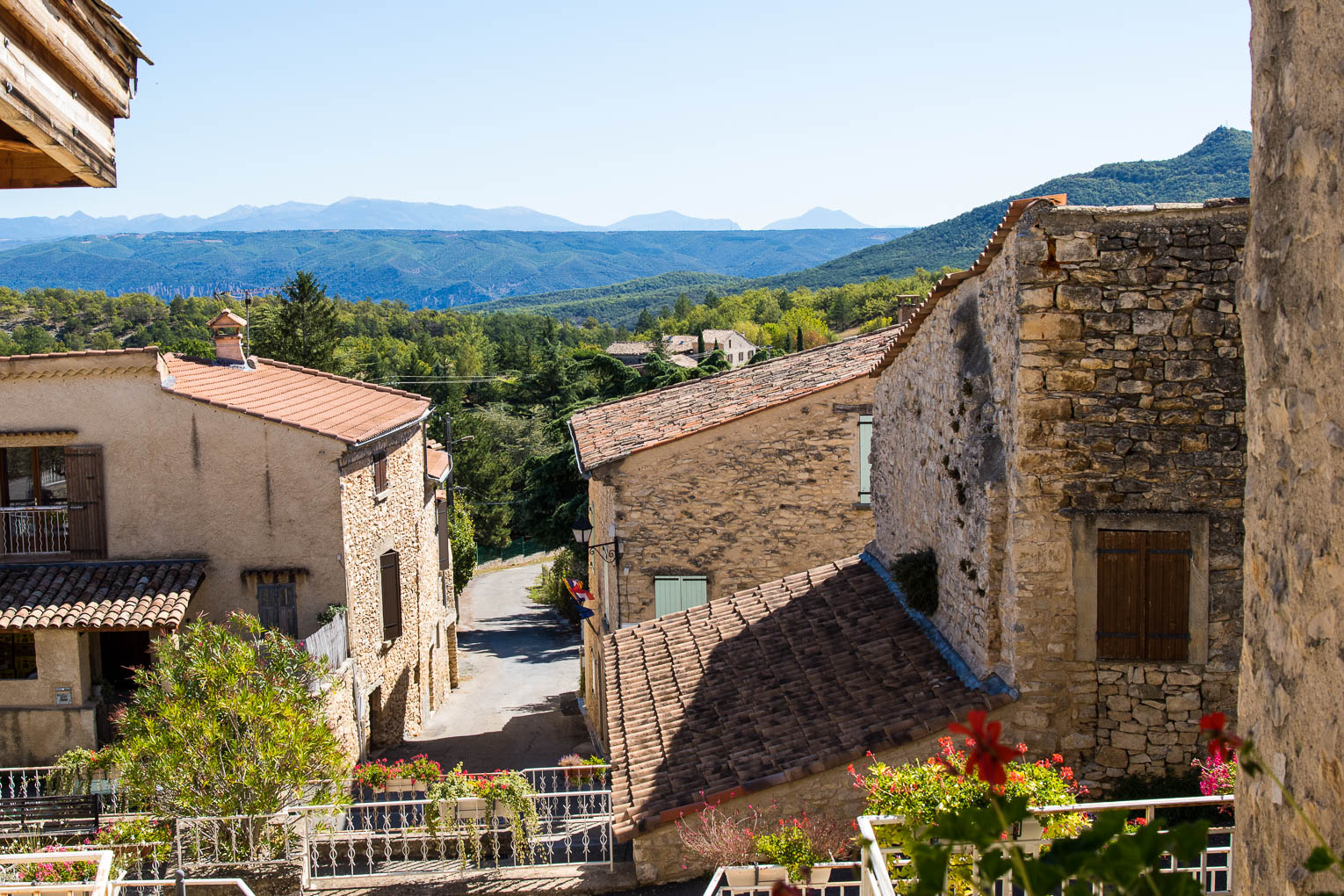 France and Mallefougasse-Augès
In the morning all the men had left from the chalet. The residents of the ridge tents had also left, leaving a couple behind to strike camp and pack away the kitchen, presumably they would make camp at the destination of the cyclists.
Today we were moving on down south to where our geology course was taking place. All the others on the course were staying in gites in the village of Cruis. They were in walking distance of where our evening meal was being served. We were going to be camping in the next village along called Mallefougasse. This had been agreed, and we would be picked up before supper, and dropped off there afterwards.
We managed to pack away and head off before 10, down South. The road out of Vizelle was a long uphill road. It banned buses and trucks over 7.5 tonnes from coming down. The views were quite spectacular, but peculiar seeing signposts to Vizelle in the direction we were heading. We stopped off at Gap to do some shopping at an Auchen Drive. Large supermarket, and also parking on more than one level. Walking back to Morrison we were concerned to see a woman randomly driving around in one of those small French cars you can drive without a licence. She seemed to be clueless and we did become concerned with the safety of our van.
We continued down past Sisteron on the toll road and turned off at Espace Saint-Pierre and headed to Mallefougasse on a twisty up and down road. Arrived on to our campsite Camping Lou Pebre D'Ail. Fairly basic, a few static caravans and a couple of motor homes turned up after us. There was a group of pylon painters on site. They would leave early in the morning and come back in the evening after dark to eat and drink.
The 'madame' was not on-site, we phoned a couple of numbers and were told to settle in and they would come and collect the money. We paid for the eight nights we were going to stay.
The next day we read our geology books, had a lazy day and walked around the local village of Mallefougasse. It was a very small village, did have a restaurant, but don't know if it was closed or open. There was also a church with some fascinating bells. Despite being small, the village had a Marie, a football pitch and a large recycling area.
In the evening we were picked up by Wiz, and whisked to her house in the next-door village. She was providing the evening meals and our packed lunched. At her house we met the other members of the Geology Society, plus friends Viv & Bill, had some preprandial drinks and a fine meal with wine. I enjoyed Wiz's Provence inspired cooking, many of the ingredients coming from her gardens, or deposited by a local hunter.
At witching hour we were driven home by one of the French guides. I did sense there might be an issue on our drive back.