West Runton 23rd – 27th August
I managed to book a short weekday camping trip (Monday night through Thursday night) to the Camping and Caravan club site in West Runton. It was impossible to book days that included the weekend. The school holidays, and the British Staycation this year conspired against late bookings. We also were unable to get an electric hook-up, so took the solar panel to keep the leisure battery charged. This campsite is in a wooded area with a long dirt track down to the site. We were shown around the site, viewing several potential spots, choosing one that was about 100 metres from the loos and children's playground. Interestingly during the course of the week, the row we parked on became a complete row of VM campervans. How good is that!!!
This was the first time we have booked a campsite in school holidays, and were fearing the place would be overrun with screaming kids. Yes there were many children, and they were enjoying themselves, but you could easily block them out and come 11pm, there was total silence. Not at all bad, and in future we won't actively block out school holidays.
Four-legged pets are permitted. R was thrilled to find a tortoise and a hamster.
Our neighbours had stayed in a campsite here a few weeks ago. They gave us some tips.
Tuesday – Cromer and West Runton
The next day we walked to the coast at West Runton, via Incleborough Hill to look over the sea. From here you could see numerous, alarming other campsites and holiday homes. The nearest one to us was the Caravan and Motorhome club site. There is a footpath through this site, allowing us alien campers to walk through their site to West Runton.
We walked down the hill to the sea, where we watched a couple of huge motorhomes trying to turn around after ignoring the height restriction signs at the entry to the lane. A difficult manoeuvre as they were turning on a steep slipway into the sea. Some skidding of tyres on the concrete as they attempted to extract themselves from their predicament. But, they succeeded. Did not find any fossils here.
Lunch time, we headed back to the Village Inn for a drink and some food. Absolute disaster, they had beer, and a large menu of food, with only two items on, sausage rolls being the highlight of their menu. Very poor show. We asked if it was a Covid or Brexit problem, Not sure we were answered.
Being OAPs we headed for the bus stop and caught a bus to Cromer where we went in search of the Banksy. Thankfully someone had put its location onto Google Maps. It was quite a way from Cromer Pier, so 800 meters east, just beyond the beach huts. Good position, only those who really wanted to see it would be bothered to walk that way. R found bits of belemnites & a witches stone. Our neighbours had done better.
Back to West Runton on the bus and a coffee and cream tea in the Hole in One Sports Bar. Yet not quite up to scratch, two scones, but a minute amount of clotted cream and jam. Then the walk up the hill, and a BBQ for supper.
Wednesday – Felbrigg Hall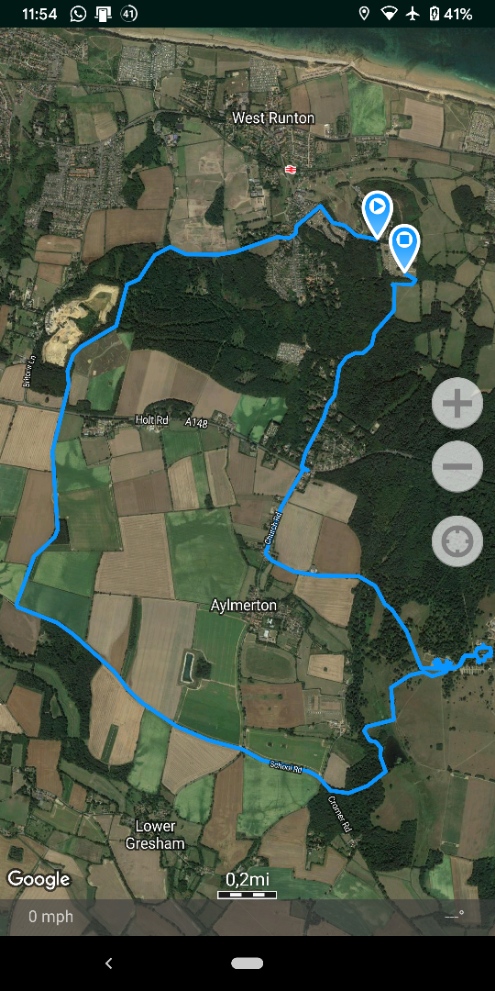 Today we went for a walk to the National Trust house of Felbrigg Hall. This was a circular walk which took us through woods, past active quarries, down farm tracks and through parkland to the hall. We managed our weekly Sadgits zoom call near a heavy plant crossing. We had to mute the call each time a load of extracted sand was driven past us. We had lunch in the Hall's café and then viewed the house.
There was a huge walled garden in the grounds. This was definitely the highlight. Never seen such huge buddleia flowers. It would be well worth coming and viewing at different times of the year.
Finally we set off again to complete the walk back to the campsite, the route back was shorter (much to R's relief).
Tonight the fish and chip van was on site. The chips were fabulous, Rosemary wished she had chosen some. The big snag was I waited 90 minutes in a queue by which time it was getting dark & chilly.
Thursday – North Norfolk Railway
Today we headed off the Sheringham on the bus via West Runton. We arrived at the North Norfolk Railway (The Poppy Line) and purchased tickets for the heritage steam line. It is quite a short trip, stopping at a couple of stations before terminating in Holt. Here we had a long walk to the centre of the town, but not until after checking out the 1930s decorated "house" built from a railway carriage complete with a lean-to, which had R crooning.
Well worth the walk, because we passed the public school of Greshams, which seemed to go on for ever and ever. Wonder how much the fees are? Bonus for parents, they take kids from 2 to 18.
Holt was busy, and the recommended (neighbours) Folly Tearoom was full, complete with a queue. Another would-be customer asked if the café took bookings. Only in advance, said the young waitress. We gave up. Instead we went to Bywfrds for lunch. After lunch a little grockling, and then bus back to Holt for the return trip. We did visit the delightful museum on the platform while we waited.
At Sheringham we walked down to the sea, huge strong wind. The town was also very busy. Interesting display of Tintin in one of the shops. Back to the bus stop and a walk back to our campsite. Started the BBQ for another steak. We were doing our cooking on charcoal. The status of the gas was low, and there was no possibility of buying a replacement gas cylinder. The Staycation has created many new campers, who had bought up all the cylinders during the previous months. (Actually did find Calor Gas in the very local farm equipment shop when we got home.)
Martham and Norwich
Today we packed up and were heading home. First stop was to see friends cum relatives on the way home. So headed to Martham where step-brother Nick has a boatyard and rents out electric day boats and beautiful wooden sail Broads-cruisers. Step-sister Liz was there too. Both very busy helping clients. Before arriving we stopped for lunch at the Poppyland Tearoom. This stop was by chance, we had intended to go to the nearby Nelson pub. Not closed, but looked a bit Covid/Brexit hit, selling food and drinks through a hatch. Backtracked to the Tearoom we had just passed. This was themed Dad's Army style with unexploded bomb, and Anderson shelters. The food was served army style. Check out my cappuccino decoration. all brilliant. You may see a theme, Poppy line, and Poppy tearoom. This area of Norfolk was well know for growing poppies.
Afterwards we stopped off in Norwich to see step-mum Ann & Liz's partner Bob. We were shown their newly landscaped garden. Landscaped by Bob and Liz. It was a remarkable change and must have looked even better earlier in the year.