Another dry and warm day here in Glastonbury. A picture of the office where I am working. I now know where it is and get there with unfailing ease. There are two similar brick built buildings. A short walk away you can buy sandwiches, coffee and eat Mexican.
---
Today thought I would go for a sandwich, not sure about these American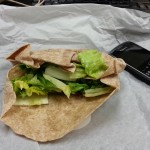 sandwiches. Actually rather disappointing, but I felt very proper by eating a veggy sandwich.
---
After a long day at work, 6 -7 back to the hotel and out for some beers and food. Went to the Tilted Kilt again. There does not seem that many good places to eat in walking distance of here. Maybe will have to drive and not drink. Today I ate at the bar and consumed some more of these strange brews. They all seem to go with the name IPA, which covers pretty well anything from Ho Garden to a dark black Guinness look alike.
Meal was a delicious salad with slices of rare cooked steak on the top.
---