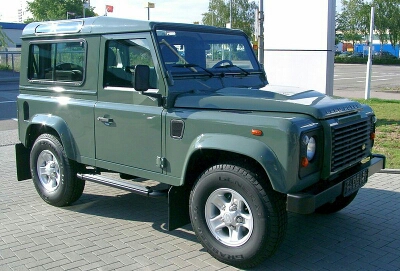 Wednesday a group of us went to Land Rover Solihull factory to have a look around the factory and see the last of the Land Rover Defenders coming off the production line. We started the day at a nearby pub for lunch, then arrived at the factory at 1.00 for the Land Rover Experience day.
First we saw the body shop where the components of the body are manufactured and were put together ready for painting. This seemed quite a manual process, with the occasional robot doing a spot of welding.
We missed seeing the paint shop, apparently not practical for a tour.
The next stop was the production line, where the chassis, wheels, transmission, engine all met with the body. It all was a complicated process as each Defender is made to order, and there are many variations in body and style. Apparently around 110 Defenders are manufactured per day.
We were taken around by an Australian, and predictably were not allowed to take photographs. It was a fabulous day out, seeing the last of a great British iconic vehicle coming to the end of its life. What will its replacement be like? Did you know the biggest export market is Germany, and that a door made for today's vehicle can be fitted to a 25 year old Land Rover? The factory building where the vehicles are assembled in are the same buildings as Maurice Wilks used when he started building Land Rovers after the war.