Glastonbury arrival, Ginza and Chipotle
My drive to Wethersfield was a doddle. So armed with my trusty printed out Google turn maps I drove to Glastonbury and the offices where I am to work for the next few days. Suffice to say the time taken for this 3 mile drive would have got me 60% of the way back to Boston. Somewhere I went wrong and drove up and down every road in Glastonbury, Connecticut. Yes I was forced eventually to ask someone for directions. I blame Google, they made me drive some circuitous route so I did not have to turn left over traffic lanes. When I got to where I was driving there were no such restrictions, even had traffic lights and signs telling me to turn left.
So I am in these big offices with no one there. They all work from home. First job was coffee. Do you know, they actually have Starbucks in America. Would you believe it? Back to work, and then lunch. Chipotle a fast food Mexican. Not too bad, I knew of the chain from the podcast program TWIG (This week in Google).
Back to the hotel, shower to remove all the leaky biro that somehow has destroyed my pants (ok, trousers, but I am in America), stained my new, white Samsung Galaxy 3 S (you should have heard Rosemary laugh when I showed her the phone on FaceTime), and marked my legs with a blue smear.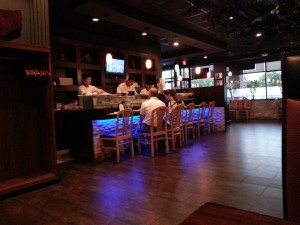 Out to supper at the Ginza, a 3 minute walk. Pissed off all the drivers as I turned the lights red on the multi lane highway. Ginza is a Japanese Sashimi and Sushi place. Yes, I am looking forward to the results of the raw fish in a couple of days time. Quite expensive, well over budget, so tomorrow it's going to be the Red Lobster. It was the cute Chinese girl who on commission got me to have the special starter. I was not going to have a starter, and no way one that cost as much as the main meal. It though was the best part of the meal. Crab on raw tuna. The Sushi main course was a bit ordinary.
On the way back popped into a liquor store. My God, the number of bottles. I have never ever seen anything quite so large and well stocked with such a huge variety of drinks. I came out with a bottle of Makers Mark which I am quietly shipping while writing this blog entry.