Today the highlights were the Moremi Lion, our third pack of African Wild Dog and some Hippo being aggressive, with African Skimmers flying over them.
Elephants at Night
There was much noise during the night; Hippos "laughing", the scrunch of grass and breaking twigs. The sounds were all around the tent. Eventually an Elephant came into view, shaking the trees, pulling of leaves and branches. It came to a stop, no way forward through the tent or the bushes. He reversed out and went around the tent another way, and passed the tent of our neighbours. Our neighbours also thought they saw a Hippo wander by their tent during the night.
Owl
Before we left, an Owl was spotted in the branches of the tree in front of the campsite. Difficult to photograph in the twilight of dawn. The Owl was still there at lunch time.
Hippo
As we were leaving, I managed to grab some photographs of the Hippo in the lake. I managed a nice photograph of a Hippo yawning with the African Skimmers flying by. The skimmers are a bit blurry, not quite enough light, or not an expensive enough lens. (Hint hint, 2.8 telescopic lens required.) At the end of a late day, the Hippo were spotted in the lake waiting to walk out of the lake onto their hippo track. Scary!
Wild Dogs
There was a report of wild dogs, and with some mad charging around we came across them. These ones were on the move, sniffing the area around and running on at speed. Could have been hunting. The dogs eventually disappeared into the bush. They hunt more bu sound than smell.
Buffalo
The elusive Buffalo at last made an appearance. We managed to drive up fairly close to them. They were always on the move and soon had left us. Most of the Buffalo had Oxpecker birds feeding. The Oxpeckers even went and cleaned teeth and nostrils.
Moremi Lion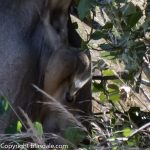 We soon spotted the tracks of Lion in the sand of the road, and Moremi Lion pooh. We came across a Moremi Lion sitting lying on the track. This Lion soon jumped up and ran off. Another male Lion came charging out of the bush chasing the first Lion. We hurtled off to intercept then, while in the distance there was the sound of a Moremi Lion roaring. Our guide positioned the vehicle in the front of their path and the resident male lion walked passed us out of the bush. The Moremi Lion stopped to mark his territory with his scent. Look at the picture and you can see the spray.
Supper
Tonight was our last night in camp. The dinner tent had been packed away, and the dinner table was out in the open. Our last showers taken, a good supper, drinks and we were ready for bed.