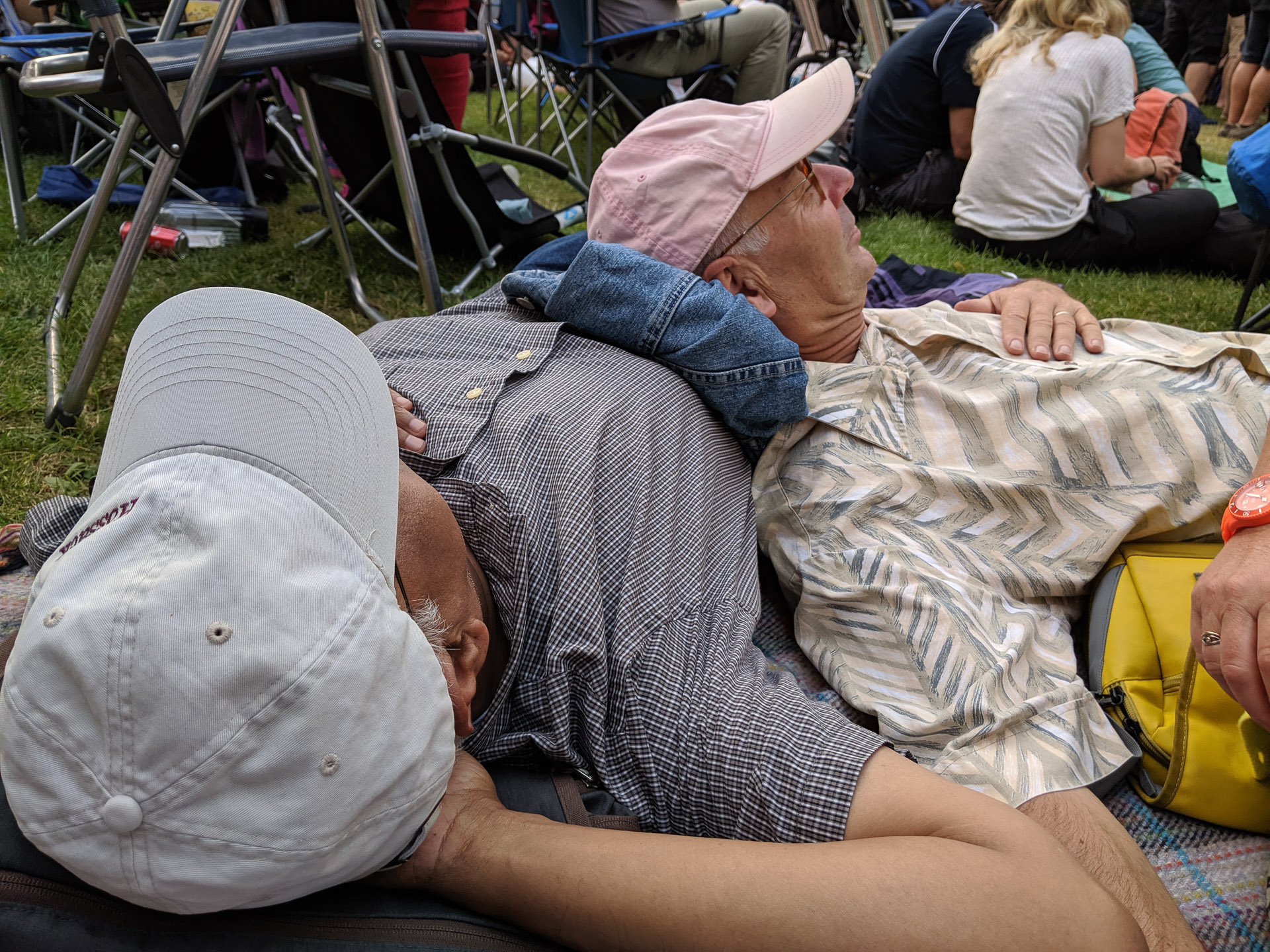 Cambridge Folk Festival – Thursday
Months ago I purchased tickets for Rosemary and I to attend the Cambridge Folk Festival. Not my type of festival, but persuaded by Ravi. The Sadgits were going to be attending!
I arrived at the Cambridge Folk Festival in Morrison sans Rosemary. Rosemary had been festivalled out (and the builders were in)! The campsite was at Coldhams Common located on some playing fields. The site was well marked out with whitewash lines indicating roads, parking and camping. I was shown a lovely spot to park Morrison, right on the edge of the site. Met my neighbours who were a friendly bunch. They immediately showed me their van. They lived in Richmond and were becoming concerned about the Ultra Low Emissions Zone and their diesel campervan. The neighbour on the other side was a single male, a little older than me, who apparently spent a large proportion of his life in his campervan. Loos and showers available, although there were often 10-15 minute queues for the showers.
I made my way to the festival site by bus. There was an excellent shuttle service between the campsite and the festival site. On Thursday I walked back from the festival site because of the queue for the bus. I soon realised empty buses were passing me by. I never made that mistake again and always rode the bus.
At the festival site, I had a quick explore. There was the main arena with several stages, outside of the arena there are were a few other stages and event spaces. During the whole weekend, I saw only one event outside and that was a talk by Extinction Rebellion.
In the main site, there were several food outlets, including one I had seen at Latitude. The main beer sold was Otter with a few guest beers, and there was Pims on tap. Standard recycled plastic beakers for a £2 deposit were in use. Should have taken up the offer of a limited edition Cambridge Folk Festival beer tankard.
Didn't see too much today, not much was on, as it didn't really start until the evening. Watched Ben Caplan. Looking forward to seeing him again on Friday (I have a video of him from then). Met up with some of the SadGits, Ravi and Jo (honorary SadGit), Richard and Andrea and consumed a few beers before watching the highlight of the evening, Ralph McTell.