Glastonbury 2022 Saturday
Another day started. No queues for showers, and yet again an excellent breakfast at The Love Fields. Yes, I ate a full English, but also breakfasted on a couple of large excellent pastries. I was spoilt. I headed down to West Holts, where I spent the early part of the day.
Kikagaku Moyo – West Holts 11:30 12.30
First up was a Japanese band who played easy listening music. A few members of their entourage came out into the pit to watch. Later on, some of the band members came out to watch other bands.
Brass Against – West Holts 13.00 14.00
Brass Against is a collective group of musicians who share the goal of creating music to inspire social and personal change. The band curates songs from a variety of influences from Tool, Rage Against the Machine, Soundgarden, Black Sabbath, Run the Jewels as well as their own compositions in a heavy brass filled symphony.
This Is a Work Event
After Brass Against finished playing, I had a message from Rosemary about a flag seen flying, 'This is a Work Event'. It just so happened to be in the West Holts crowd. Rushed on over to the flag, and cajoled is owners to photograph me holding it. Interestingly it disappeared in 15 minutes, and I never saw it again.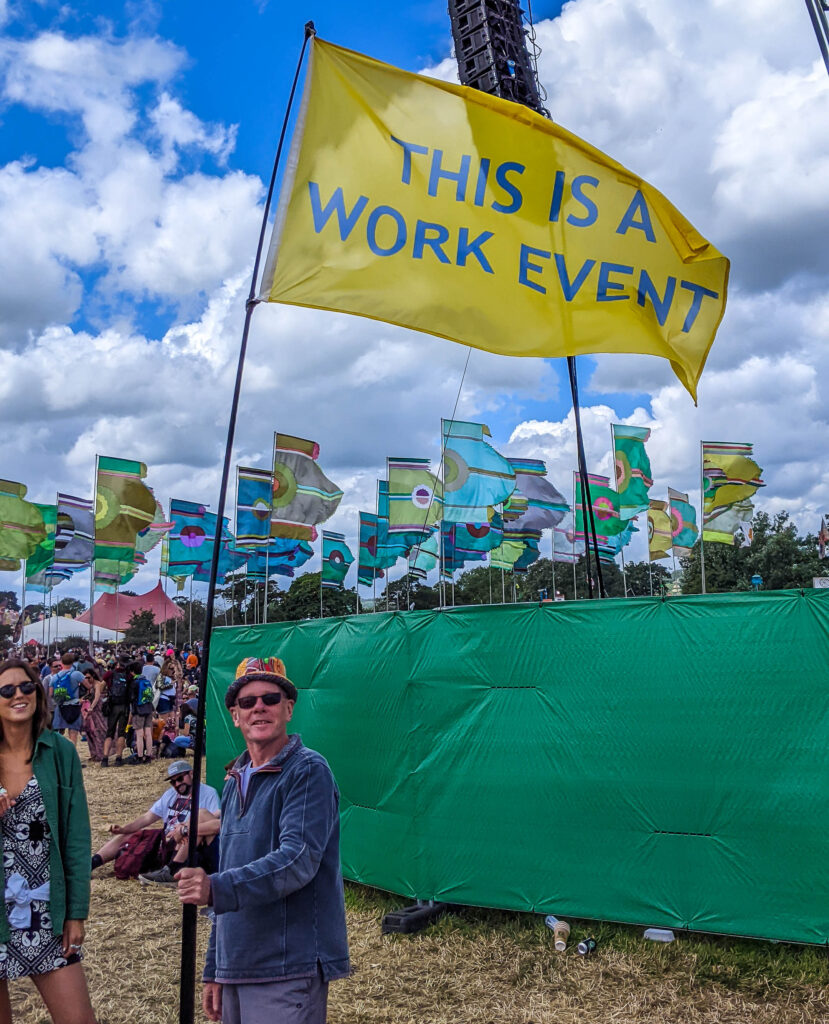 Black Midi West Holts 14:30 15:30
After the picture opportunity I went back to watch Black Midi, an English rock band from London, formed in 2017 by Geordie Greep, Cameron Picton, Matt Kwasniewski-Kelvin and Morgan Simpson.
Glass Animals Other Stage 17:15 18:15
Finished at West Holts and walked over to watch Glass Animals on the Other Stage. I was far, far away and did not have an unobstructed view. Watched them for a few minutes before attempting to meet up with Ed and Mary who had gone their separate ways. Tracked them down to the Williams Green and had a pint of beer with them before we headed over to the Pyramid Stage.
Noel Gallagher's High Flying Birds, Pyramid Stage 19:15 21:00
We met up with Jon watching Noel Gallagher. It is quite easy to get down in front of the mixing consoles, there is a path in the centre of the arena from the back to the mixing decks.
Ralph McTell Acoustic stage 20:00 21:00
After Noel, we headed to the Acoustic Tent. We had quite an advantageous position to see Ralph McTell. Managed to grab a video of him singing his famous Streets of London
The Waterboys Acoustic Stage 21:30 – 23:00
The final band on the Acoustic Stage was The Waterboys. The Waterboys are a folk-rock band formed in Edinburgh in 1983 by Scottish musician Mike Scott. The band's membership, past and present, has been composed of musicians from Scotland, Ireland, Wales and England.
Theatre and Circus
I spent much of the late evening walking around the circus and theatre area, watching many walkabout acts, before finally watching a show at the Circus Tent, Briefs Bite Club, I had great expectations for the show, but it did turn out to be rather tedious.