There was no T in the Park this year (T is for Tennents the main sponsor). Something to do with Ospreys who nest near to the arena making it difficult to use the space. Restrictions including no fireworks. Instead there was a three-day festival in Glasgow on Glasgow Green, which is very near to the city centre. No camping of course, instead hotel accommodation, which of course doubled in price as soon as the festival was announced.
I travelled to Glasgow on the Thursday by Virgin Rail, first class with my Senior Railcard. Nice and quiet in first class, fed and amply watered with wine. I arrived in the evening, checked into my Lenny Henry hotel, and then went out for a rather nice meal at an Italian restaurant.
Friday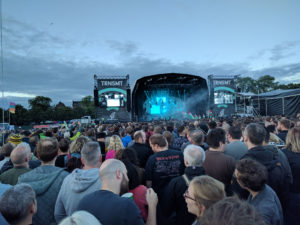 Friday was the first day of the music festival. Fifteen-minute walk to the west entry of the arena. Despite the warnings of large crowds, long queues and long waits, entry was in a couple of minutes. Armed police in evidence at the gate, we were all patted down. Drugs sniffer dogs were the next obstacle. Inside the arena there were lots of uniformed police and quite a few coppers in disguise.
There were four music venues, three very small and one large main stage. I spent most of my time at the main stage, except when refilling with food and drink. There I typically sat at the old peoples' tables near to the Jacks Rocks stage, eating and chatting. Usual fare of cider, lager and wine and a very nice Thai food outlet with a reasonably warm green curry.
I watched Rag N Bone Man, London Grammar and Radiohead. Radiohead were the headliners and played all the favourites. They though did not interact with the crowd one bit, and for those not near to the stage there was no way to see them. The stage screens did not have close shots of the artists, but instead a psychedelic screen show. This had also been complained about by other critics after their Glastonbury show. The music was good though.
Leaving the event was fast, and I was soon back at the hotel.
I didn't dress properly for the weather, it did not rain, was cloudy but cool. The hotel had confused me, I had been wearing my thick long-sleeved Fat Face top and was sweating profusely. The weather forecast said no rain, so I stripped down to a short-sleeved T shirt. It didn't rain, but by the end of the day I was a trifle cold. It was good to get back into a warm bed. One issue with the venue is they hold you hostage for the day at their inflated drink and food prices. You cannot leave and come back in. No re-entry.
Saturday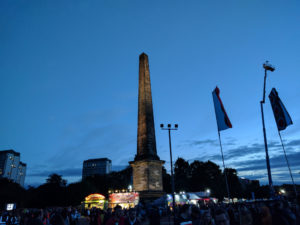 Saturday, it was a lovely cloudless day, though not warm. Plenty of sunscreen was called for. This time I did wear my long-sleeved top. Today I saw Stormzy, a rap singer who had rapturous applause at Glastonbury. He worked so well with the crowd, putting Radiohead's performance to shame. Was well worth watching. I saw some of Kooks, and George Ezra. I have been disappointed in some live shows with George, where the mixing is totally wrong. You go to hear his voice, not the band. TRNSMT got the mixing about right. I missed Catfish and the Bottlemen, but returned for the Kasabian show. Again, an excellent performance.
Saturday had been a sell-out, and the crowds were huge. The bars had huge queues even before getting into the normal bar queue. The toilets were similarly congested. The patriarchy rules OK and the men had no queuing, The urinals are large plastic tanks with four peeing positions around the tank. You stand facing each other, peeing into plastic urinals over the tank and talking to each other. These loos though are totally open to public view and are placed around the site. So it was odd seeing men in view from the waist up talking to each other and peeing into urinals. Odd on two counts, including the talking bit when at a urinal.
Saturday ended well. I was elated and tired when I was back at the hotel. Straight to bed
Sunday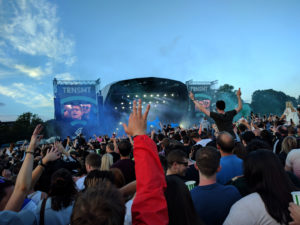 Today rain had been predicted, and yes there was rain. Not hard. It had cleared up by the time I had left the hotel. I took my poncho which I did put on when the light drizzle returned. Not too bad, not enough to spoil the event. Later in the evening it dried up so I could remove the poncho for the final gig where I wanted to get to the mosh pit. (A newspaper described the rain as torrential, fake news.)
Crowds were far less today, at my first drink there were no queues and I spent some time chatting with the bar worker from Sierra Leone. She said how most of the drinkers were OK, but there were some abusive and racist people in the queues on Saturday.
Watched the Blossoms from Manchester who played and looked very much like a hippy 70s band. Very refreshing. Next up for me was a band called Two Door Cinema Club from Northern Ireland. Again, a good live session with plenty of interaction with the crowd.
Now we had The 1975 from Manchester, a band I have already seen at T in the Park. The lead singer Matty, (son of Denise Welch and Tim Healy). Matty plays smoking a cigarette (I was told he pays the venue to do so), also looking as if he is high on drugs. His disposition and eye-shadowed look reminded me very much of Richie from the Manic Street Preachers. Now I understand why, when I read WikiPedia and found the name 'The 1975' was inspired by scribblings found on the back page of a poetry book by Jack Kerouac that stated "1 June, The 1975". The Manics were Kerouac fans. It was a superior performance, and they now they have a couple of albums out.
Finally, Biffy Clyro, who I had missed in Reading thinking they were some girly band. Oh how wrong I was, full-on Rock Music. I went down close to the front to watch them. Great rock and roll and great interaction with the crowd. Finished off with a short and explosive firework display.
Back at the hotel had a celebratory drink in the hotel bar, including a dram of Talisker.
Monday
Took the Virgin Train back to London. Was wondering why I went to London and did not go to Milton Keynes. When I got home and checked prices for discounted tickets, it became evident that it was cheaper to go from London and not from Milton Keynes. Why?