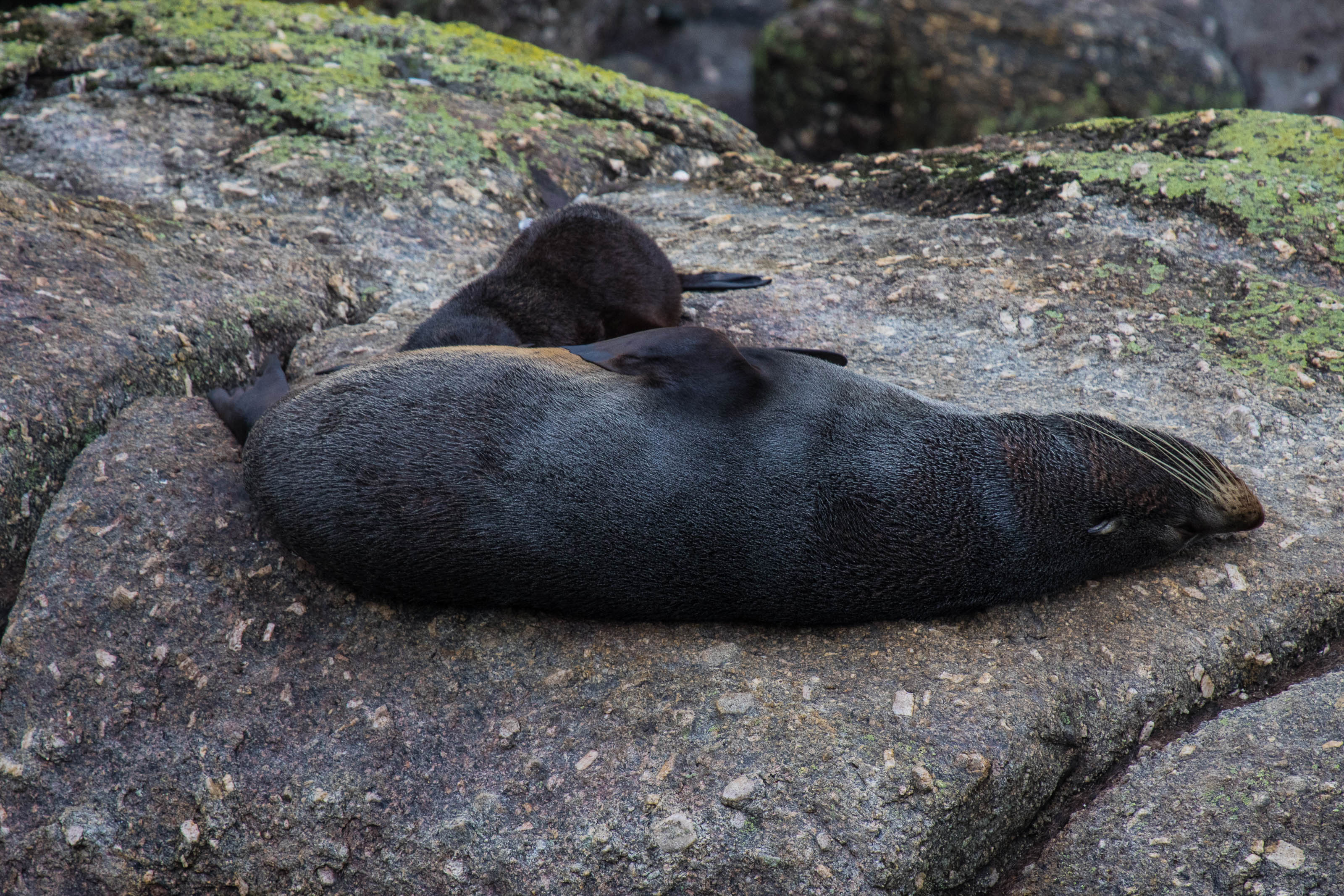 The rain started during the night, when we got up for breakfast it had stopped for a short while. We left the site just before 10, heading to Cape Foulwind and the lighthouse. We walked up to the lighthouse and back, photographed an obliging Weka. The rain still held off.
Drove on to the Seal Colony at Tauranga Bay. I was not really expecting to see any seals, but there they were and a whole crop of new ones which had already been tagged. Several hundred photographs later, we left.
The next stop was Mitchells Gully Gold mine, the rain was still managing to hold off. This Gold Mine showed a number of tunnels dug through the gold bearing sand. There was a water wheel which was used to crush the ore so that it could be treated with Mercury to extract the gold as an amalgam.
On one of the tracks a very obliging fantail stopped to have one, or more, photographs taken. It obliged by fanning its tail and generally looking very cute.
We continued South on SH6 stopping at the odd view point. We turned left up a dirt track called Bullock Creek Road. This was another Hobbit location where the cliffs were used as a backdrop to some of scenes. Not sure we got to the ones actually used as a nervous passenger was demanding that we should turn around on the narrow single-track road. Oh, and the rain started in earnest now.
Back on SH6 we continued to the Pancake Rocks. It was now raining cats, dogs & mice, ie biblical stuff. So straight into the restaurant for a wrap-lunch and coffee and then the tourist advice to buy some cards. Now it was a walk around the Pancake Rocks and Blowholes. We were totally drenched during the walk, camera, mobile, jeans. We sat in the car, air-conditioning and heating on hoping to dry; fat chance.
We continued on SH6 in the driving rain and wind, stopping at Greymouth. The intention originally was a DOC site on Lake Kaniere, but a site with no kitchen, shower, laundry and no where warm & dry to sit was not something we were looking for. Instead we went for the Top Ten at Greymouth, using the laundry and tumble dryer to dry our sodden clothes.
On the site was another convoy, this time celebrating the 100th anniversary of the 1918 armistice and driving a range of WWII vehicles. In the 'Sky' room they all watched "The Monument Men" a WWII film about the recovery of stolen art work. Their comments were all about the vehicles.
The next three days look good, so the glaciers and Haast pass should be photogenic.